2002 Pioneer Award Winner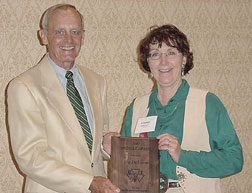 H.H. "Hop" Dickenson (left) receives the 2002 BIF Pioneer Award from Connee Quinn, 2001 BIF president.

H.H. "Hop" Dickenson Receives BIF Pioneer Award

The Beef Improvement Federation (BIF) honored H.H. "Hop" Dickenson with the Pioneer Award at the the organization's 34th annual convention July 12, 2002, in Omaha, Neb. The award recognizes individuals who have made significant and lasting contributions to the genetic improvement of beef cattle.

Dickenson served 23 years (1974-1997) as executive vice president and secretary of the American Hereford Association (AHA). He first joined the AHA in 1960 and served as the southeast representative of the American Hereford Journal. His tenure at AHA has included several positions, including area representative of AHA (1963-1968), general manager of the American Hereford Journal (1968-1970), director of marketing development and general manager of the American Hereford Journal (1970-1974).

Prior to joining AHA, Hop served as an Extension specialist with Virginia Tech University's animal husbandry department from 1959 to 1962; in the U.S. Army from 1957 to 1958; as secretary of the North Carolina Hereford Association in 1956 and as a fieldman for the Virginia Hereford Association in 1955. Dickenson was born in Lebanon, Va., and earned a bachelor's degree in animal science from Virgina Tech in 1955.

Dickenson has served the beef industry in many capacities including: president, U.S. Beef Breeds Council; president, National Society of Livestock Record Associations; director , National Agriculture Hall of Fame; director, American Royal Livestock Show; director, Kansas City Agribusiness Council; director, National Livestock and Meat Board; member U.S. Agriculture Technical Advisory Committee; member, National Western Stock Show; and advisor, World Hereford Council.

Throughout his career, Dickenson demonstrated unusual vision and leadership in implementing, conducting and educating customers on use of beef cattle genetic improvement programs. He played a significant role in initiating the Culpeper Bull Testing program while serving as an Extension specialist at Virginia Tech. Many significant program changes and improvements were made in AHA's Total Performance Recording Program while Dickenson was at the helm. Under his leadership, TPR grew to become the focal point and basis of genetic improvement in the Hereford breed.

He was a strong supporter of BIF, attending, speaking and actively participating in many annual meetings and workshops. At the 1983 annual meeting he said, "I think Sire Evaluation is the most important development in the history of the beef cattle industry." Shortly after the first Genetic Prediction Workshop at Winrock International, in December 1983, AHA was one of the first organizations to shift to the use of reduced animal model methodology, a step that significantly increased accuracy of genetic prediction and effectiveness of selection in breed improvement programs.