2002 Pioneer Award Winner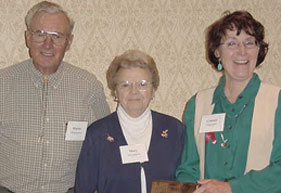 Martin and Mary Jorgensen, Ideal, SD, receive the 2002 BIF Pioneer Award from Connee Quinn, 2001 BIF president.

Martin and Mary Jorgensen Receive BIF Pioneer Award

The Beef Improvement Federation (BIF) honored Martin and Mary Jorgensen, Ideal, S.D., with the Pioneer Award at the organization's 34th annual meeting July 12, 2002, in Omaha, Neb. The award recognizes individuals who have made lasting contributions to the improvement of beef cattle.

Martin and Mary live on the farm that his family homesteaded in 1909 near Ideal, S.D. They have four children, Judy, Mary Jean, Greg, and Bryan. Greg and Bryan are actively involved with Martin in the operation and management of Jorgensen Land and Cattle. This is a dynamic and productive operation that includes commercial and seedstock beef production, commercial swine production, and numerous row crops.

The Jorgensens are truly pioneers in the development of innovative management practices and the implementation of new technologies. They were one of the first to embrace the concepts of integrated resource management (IRM), and Martin served as the first chairman of the National IRM Coordinating Committee during the early 1990s.

From its inception, Jorgensen Land and Cattle has been operated as a whole, with each enterprise contributing synergistically to the success of the entire farm. Martin was an original member of the South Dakota Livestock and Production Records System. Production and performance records have provided the foundation for the development of the famous Jorgensen Angus herd as well as of their other enterprises. Martin has been involved with BIF since its inception in 1968. He served as president of the BIF Board from 1976-78.

Martin and Mary have given unselfishly to public service activities associated with improving agriculture and rural life. They have served on numerous local, state and national boards and committees. They have been instrumental in the construction of numerous community buildings and in helping to bring rural water to their community. Martin was appointed to and served on the South Dakota Board of Economic Development for nine years. He also served as a speaker in several of the Agri-Service Foundation Stockmen Schools, including a trip to Russia and the Ukraine in 1993.

Martin Jorgensen has received many honors and recognitions. These include the Eminent Farmer of South Dakota Award from South Dakota State University (SDSU), the National Cattlemen's Beef Association (NCBA) Businessman of the Year Award and the South Dakota Master Pork Producer Award. He was inducted into the Angus Heritage Foundation of the American Angus Association in 1990 and was chosen as an honorary member of the Rosebud Sioux Tribe in 1995.