2002 Seedstock Producer of the Year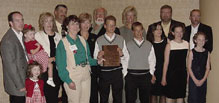 The Dave Gust family accepts the 2002 BIF Seedstock Producer of the Year Award for Circle A Ranch, Iberia, MO, from Connee Quinn, 2001 BIF president.

Circle A Ranch Receives the 2002 BIF Outstanding Seedstock Producer Award

Circle A Ranch was named the Beef Improvement Federation (BIF) Outstanding Seedstock Producer of the Year at the organization's 34th annual convention in Omaha, Neb., July 12, 2002.

Circle A Ranch is headquartered in Iberia, Mo., with satellite operations in Stockton and Huntsville, Mo., and Lineville, Iowa. The ranch headquarters was established 12 years ago and is home to 700 registered Angus and Red Angus females in addition to 1,800 commercial Angus cows. Circle A runs approximately 2,000 commercial Angus cows near Huntsville, Mo., and 2,200 commercial Angus cows at Stockton, Mo. Approximatley 2,100 head of fall and spring replacement heifers are developed at Lineville, Iowa.

The Dave Gust family started Circle A with two main goals: 1) Produce the best possible genetics in the industry and 2) provide service to customers in the best way possible.

In their efforts to produce superior genetics, Circle A has
-- contributed more than 4,000 carcass records to the Angus Herd Improvement Records (AHIR) program from their designed progeny-testing program;
-- established the Angus Sire Alliance;
-- implemented economic selection indexing into its breeding program;
-- constructed a feed efficiency research center;
-- established a DNA repository of approximately 3,500 steer samples;
-- produced seven clone-mate families from proven sire and dam cell donors;
-- constructed their own Internet-based data collection system that ties together all of the four ranches; and
-- computed within-herd expected progeny differences (EPDs) twice each year for the commercial operations.

To better serve customers, Circle A has held seedstock female sales for eight years and bull sales for 10. The ranch annually hosts four feeder-calf sales that highlight genetics from their customers, and it employs a full-time staff member with commercial marketing responsibilities.

Circle A Ranch is owned by Dave Gust Sr. and Family and is managed by Mark Akin.
Click here to visit the Circle A Ranch Web site.

Click the link below to read articles printed in the Angus Journal about Circle A Ranch.
The Quality Code
Predicting Progeny Profitability