2002 Pioneer Award Winner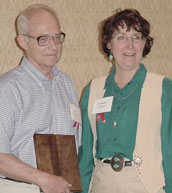 L. Dale Van Vleck accepts the 2002 BIF Pioneer Award from Connee Quinn, 2001 BIF president.

L. Dale Van Vleck Receives BIF Pioneer Award

The Beef Improvement Federation (BIF) honored L. Dale Van Vleck with the Pioneer Award at the organization's 34th annual convention July 12, 2002, in Omaha, Neb. The award recognizes individuals who have made significant and lasting contributions to the genetic improvement of beef cattle.

Van Vleck was born June 11, 1933. His parents farmed near Clearwater, Neb., at the edge of the Nebraska sandhills. He earned his bachelor's degree with high distinction in technical science of agriculture a master's degree in genetics at the University of Nebraska in 1954 and 1955, respectively. After serving in the U.S. Army Chemical Corps from 1955-1957, he received his doctoral degree from Cornell University. He then joined the faculty at Cornell as research geneticist (1959), assistant (1962), associate (1967) and then full professor (1973).

Van Vleck concentrated on applications to dairy cattle improvement programs. In 1988, he retired as emeritus professor and moved to the U.S. Meat Animal Research Center (MARC) as a research geneticist with appointment as professor at the University of Nebraska. He has been located on campus at the University of Nebraska, where he directs activities of many graduate students, most of whom conduct research in cooperation with MARC scientists.

Van Vleck has emphasized accurate measurements of genetic variation in performance traits and their effective use in selecting for desired genetic changes in all species of livestock. He and his students developed what is the prototype for genetic evaluations with the animal model utilizing all relationships among animals and accounting for prior genetic selection, which has been implemented in dairy cattle in the U.S., Canada, and many other countries since 1989. He then showed how to extend the procedure to both direct and maternal genetic effects for beef cattle evaluations.

Since joining ARS in 1988, Van Vleck and post-doctoral associates developed a statistical research that reduced computing time by a factor of 200 to 600. Their software, with its accompanying manual, was released in 1993 and is now being used on a wide range of computers by more than 170 scientists around the world. Each year he conducts analyses to estimate factors that can be used to estimate across-breed expected progeny differences in beef cattle. Van Vleck has been very active in BIF's Genetic Prediction Committee and has played a key role in revision of the last three editions of BIF Guidelines for Uniform Improvement of Beef Cattle.

He is author of the classic text, Selection Index and Introduction to Mixed Models, and co-author of Genetics for the Animal Sciences, Principles of Dairy Science and The Horse. Dale has taught in 13 different undergraduate and graduate courses and in numerous shortcourses and workshops. He has directed 35 doctoral students and 28 master's students, served on 65 other graduate committees, directed 18 undergraduate honors theses, and worked with 30 visiting fellows. He is first author of some 137 scientific publications, joint author of 210 others and author or joint author of six books, seven book chapters, 143 published abstracts of reports at scientific meetings, as well as some 142 interpretive articles.