2003 Commercial Producer of the Year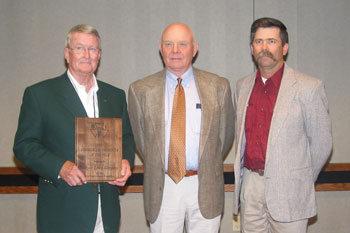 Paul McKie (left) and Rich Sours (right) of Tailgate Ranch receive the Commercial Producer of the Year Award from Richard McClung, 2003 BIF President
.

Tailgate Ranch Receives 2003 BIF Commercial Producer of the Year Award

Tailgate Ranch is a commercial cow-calf operation consisting of about 1,500 acres of cool-season grass and legume pastures, 390 acres of brome hay meadows, and 60 acres of alfalfa. Tailgate was formed in 1962 by Paul McKie. The ranch is located at Tonganoxie, Kansas, about 30 minutes west of Kansas City.

The ranch currently consists of about 280 females, including 80 replacement heifers, in our spring-calving herd and 120 cows in the fall-calving herd. The main focus for the last seven years has been developing and breeding high-quality replacement females following a strict culling regime in order to build a superior maternal cow herd. Feedlot and carcass data have been collected to help improve feed efficiency and product quality.

Bred heifers begin calving February 10 and finish within 45 days. Heifers are synchronized and artificially inseminated (AI) once, then exposed to proven, easy-calving Angus and Red Angus bulls used for cleanup. Spring cows, consisting mostly of Red Angus or Angus crosses, calve March 1 through April 15.

Calves are vaccinated prior to weaning, then weaned September 20 and put on growing ration and pasture until steers are either sold or sent to a feedlot. Heifers continue developing on pasture for the AI breeding program. Fall-calving cows, mostly straight Angus, calve September 1 to October 15. Fall calves are generally creep-fed 60-80 days, weaned at 150 days of age, preconditioned and sold as grass cattle. Angus, Red Angus, and Red Angus x Simmental bulls are used on the spring herd. Angus, Red Angus and Braunvieh bulls are used on fall cows.