Ronnie Silcox Receives BIF Continuing Service Award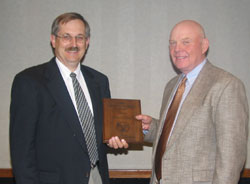 Ronnie Silcox (left) receives the Continuous Service Award from Richard McClung, 2003 BIF President.


The Beef Improvement Federation (BIF) honored Dr. Ronnie Silcox with the Continuing Service Award at the 35th Annual Meeting and Research Symposium in Lexington, Kentucky, on May 30, 2003.

Dr. Silcox was born in 1955 in Goodway, Alabama, and grew up on a cotton, soybean, and cattle farm. He received his B.S. in Agricultural Education (1977) and M.S. in Animal Science from Auburn University (1980). After completing his Ph.D. at Iowa State University in 1985, he accepted the position of Extension Beef Cattle Specialist at The University of Georgia.

During his extension efforts at The University of Georgia, Dr. Silcox coordinates the junior livestock program in the Animal Science Department, develops adult outreach programs in beef cattle genetics, and coordinates the State Beef Quality Assurance program. His current appointment is 80% Extension, and 20% Teaching, which includes teaching Beef Cattle Production and faculty advisement to the UGA Block & Bridle Club and the UGA Cattlemen's Association. Silcox has been a national leader and contributor to National 4-H Livestock Contest Committees. He was recognized in 1997 by the National Association of County Agricultural Agents with the highly respected Distinguished Service Award. In 2001, he received the Outstanding Extension Faculty Award from The University of Georgia Gamma Sigma Delta Society.

Dr. Silcox has provided unending service to BIF throughout his career. His assignments included coordinating the Central Test Committee (secretary, 1986-1992; chair 1992-1996), Eastern Regional Secretary (1991-1999), and the extensive responsibilities of BIF Executive Director from 2000-2002. He was actively involved in two revisions of the BIF Guidelines for Uniform Beef Improvement Programs, along with leadership responsibilities in the Awards Committee, Scholarship Committee, and Fact Sheet development and Editorial efforts.

The BIF is fortunate to have Ronnie Silcox as part of its history. Along with his formal BIF responsibilities, he has always been willing to provide service and dedication to all BIF leadership, membership, and educational activities.

Dr. Silcox and his wife, Terry, have been married 21 years, and have two sons, Christopher and Patrick.