Steve Suther Receives BIF Ambassador Award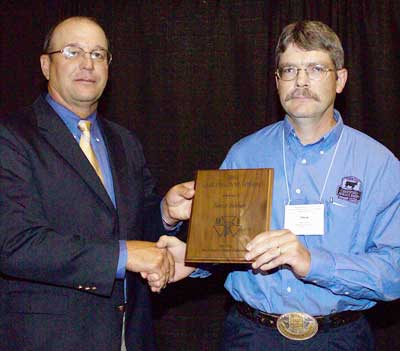 Steve Suther (right), director of industry information for Certified Angus Beef LLC, receives the Ambassador Award from 2005 BIF President Jimmy Holliman.
BILLINGS, Mont. (July 7, 2005) — The Beef Improvement Federation (BIF) named Steve Suther recipient of its 2005 Ambassador Award during the organization's 37th annual meeting July 6-9, 2005, in Billings, Mont. The honor is given to a member of the media each year for that individual's efforts to help cattle producers understand cattle performance testing and genetic prediction tools.

Suther, director of industry information for Certified Angus Beef LLC (CAB), has almost 30 years of experience as an agricultural journalist and is a regular contributor to numerous beef industry publications. In addition to feature articles on beef producers and production issues, Suther authors a monthly column called "Black Ink" that focuses on profitable cattle production through the use of genetic selection tools, as well as through proper management and marketing. His column is regularly carried by more than 50 publications and reaches approximately 650,000 U.S. beef producers each month.

Suther has long championed the use of performance testing as a means of improving beef cow productivity and efficiency, often practicing what he writes on the farm he and his wife, Anne, own and operate near Onaga, Kan. A 1976 graduate of Kansas State University (K-State), Suther began his career writing for Grass & Grain, a regional publication in Manhattan, Kan. He completed his master's degree in journalism from K-State in 1984 and continued to write about the beef industry for numerous national publications, including Farm Journal's Beef Today, of which he became editor in 1996.

Throughout his career, Suther has strived to deliver information to producers that would help them increase profitability by improving efficiency. Suther was the first beef journalist to create and host a beef discussion site on the Internet, allowing producers from around the world to share information to improve land and cattle management to more efficiently and profitably produce beef. He continues to host a similar site for producers in his current position with CAB.

Suther's writing ability hasn't gone unrecognized. He has received at least one first-place writing award from the Livestock Publications Council (LPC) each year since 1997. Suther currently serves on the LPC board of directors.

Today, Suther and his family manage 125 Angus-based cows on their farm, using artificial insemination (AI) to improve the quality of replacement heifers selected for their cow herd. Since 1999, calves have been retained and finished in a commercial feedlot, which provides individual animal carcass performance. Proof that what he writes actually works in the real world is the fact that 46% of his retained calves qualified for the CAB program last year, compared to only 10% in 1999.

Steve and Anne have three children: Shea, 21; Frankie, 15; and Tom, 12.

BIF was formed as a means to standardize programs and methodology and to create greater awareness, acceptance and usage of beef cattle performance concepts. More information can be found on the organization's Web site, www.beefimprovement.org.