Robert Williams Receives BIF Continuing Service Award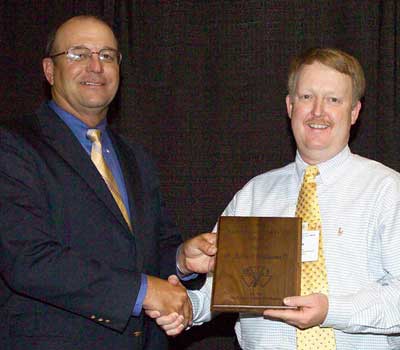 Robert Williams (right), AICA director of breed improvement and foreign marketing, receives a Continuing Service Award from 2005 BIF President Jimmy Holliman.

BILLINGS, Mont. (July 7, 2005) — The Beef Improvement Federation (BIF) honored Robert Williams with its Continuing Service Award during the organization's 37th annual meeting July 6-9, 2005, in Billings, Mont. The award recognizes individuals for their service to the organization and to the beef industry.

Williams, who serves as director of breed improvement and foreign marketing for the American-International Charolais Association (AICA), was raised on a diversified family ranching operation at Freedom, Okla. The operation included a commercial cow herd in addition to wheat and other crops.

He attended Oklahoma State University (OSU), where he was a member of Block and Bridle, the horse judging team and a national champion livestock judging team. He received his bachelor's in animal science in 1982. In 1992, after spending 10 years employed in the livestock industry, he entered the graduate program in Animal Breeding and Genetics in the Department of Animal Sciences at the University of Georgia. He completed his M.S. degree in 1995 under co-advisors Keith Bertrand, Ph.D. and Larry Benyshek, Ph.D. and completed his Ph.D. under the supervision of Bertrand in 2002.

After graduation from Oklahoma State University he served as a Classifier and Director of Junior Programs for Beefmaster Breeders Universal, San Antonio, Texas, until 1987 when he accepted the manager position at Still Hills Beefmasters, Fort Payne, Alabama. In addition to his management duties at Still Hills he maintained his own registered herd and was recognized as the 1991 and 1996 Southeastern Breeder of the Year.

Williams joined the staff of the American-International Charolais Association in 1998 as Director of Breed Improvement and Foreign Marketing Programs. Through a joint agreement, Williams also served as Director of Breed Improvement Programs for the Canadian Charolais Association from 1998 through 2001. He is responsible for the development of programs aimed at enhancing the genetic evaluation of measurable phenotypic traits. Under his leadership, AICA has doubled the number of traits for which EPD are published and introduced the beef industry's first web-based interactive and customizable Selection Index in North America. Other duties include oversight for structured sire evaluation programs and international marketing programs for the association. He was instrumental in the development of whole herd registration and performance guidelines for AICA.

He has served BIF as a board of director and also as a member or chairman of several committees including current Chairman of the Live Animal, Carcass and End Product Committee and Chairman of the committee for the most recent revision (8th Edition) of the BIF Standardized Guidelines. He is currently serving on the committee to write DNA Standardized Guidelines for BIF. Williams was also a recipient of the Frank Baker Memorial Scholarship Award in 1997.

An active, certified ultrasound technician from 1993 through 1998 Williams later served on the APTC Ultrasound Certification committee from 1999 through 2001. He was instrumental in the organization of the Ultrasound Guidelines Council which is currently responsible for the certification of field and laboratory ultrasound technicians for the beef industry and has served as its chairman since 2003.

Williams has spent his career in pursuit of genetic improvement of livestock and is a vocal supporter for the core principles of the Beef Improvement Federation. Dr. Williams and his wife, Nancy, have been married 15 years, and have four children, Eric, Shannon and twins Shane and Grant.

BIF was formed as a means to standardize performance programs and methodology and to create greater awareness, acceptance and usage of beef cattle performance concepts. More information about BIF can be found on the organization's Web site, www.beefimprovement.org.