Terry O'Neill Receives BIF Continuing Service Award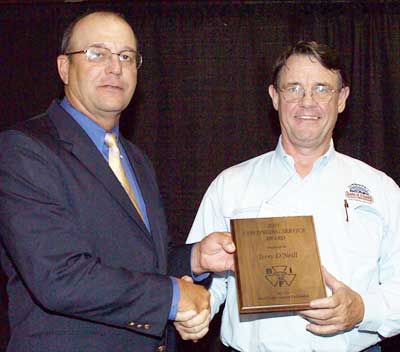 Terry O'Neill (right), Tomahawk Land and Cattle, receives a Continuing Service Award from 2005 BIF President Jimmy Holliman.

BILLINGS, Mont. (July 7, 2005) — The Beef Improvement Federation (BIF) honored Terry O'Neill with its Continuing Service Award during the organization's 37th annual meeting July 6-9, 2005, in Billings, Mont. The award recognizes individuals for their service to the organization and to the beef industry.

O'Neill started Tomahawk Land and Cattle in 1979. The operation prides itself on being a one-stop source for profitable crossbreeding, with sales of Limousin, Lim-Flex and Angus bulls approaching 200 head per year. Most recently, Piedmontese have been added to the breeding program.

The mission statement of Tomahawk Land and Cattle is to offer focus, direction and opportunity to forward-thinking, profit-minded producers interested in breeding and growing ideal feeder calves and replacement females for consumer-driven niche markets. Through "planned genetics" based on accurate expected progeny differences (EPDs) for performance and carcass traits, Tomahawk provides specific genetics for crossbreeding to consistently help customers achieve efficient production of profitable, high-yeilding, tender, palatable beef products.

Along with owning Tomahawk Land and Cattle, O'Neill serves as vice president of cattle procurement for Montana Ranch Brand Natural Meats. In his current position, O'Neill oversees acquisition of more than 10,000 head of Lim-Flex feeder cattle annually. Terry's background as co-owner and founding board member of the Western Beef Alliance makes him ideally suited for his position with Montana Ranch Brand.

O'Neill is is a graduate of Virginia Tech, with a bachelor's degree in industrial engineering and an MBA. In 1998, he was named Commercial Marketing Booster of the Year by the North American Limousin Foundation (NALF), where he also currently serves as a member of the board of directors. Through the years, O'Neill has been an active member of the Montana and Wyoming Stockgrowers' associations. He is a retiring member of the BIF board of directors.

BIF was formed as a means to standardize performance programs and methodology and to create greater awareness, acceptance and usage of beef cattle performance concepts. More information about BIF can be found on the organization's Web site, www.beefimprovement.org.