Jerry Lipsey Receives BIF Continuing Service Award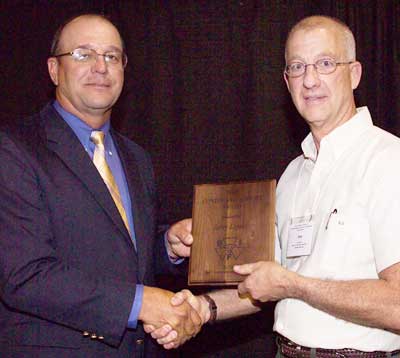 Jerry Lipsey (right), ASA executive vice president, receives a Continuing Service Award from 2005 BIF President Jimmy Holliman.

BILLINGS, Mont. (July 7, 2005) — The Beef Improvement Federation (BIF) honored Jerry Lipsey with its Continuing Service Award during the organization's 37th annual meeting July 6-9, 2005, in Billings, Mont. The award recognizes individuals for their service to the organization and to the beef industry.

Jerry Lipsey has made a significant impact on the beef industry as a highly
respected animal scientist and college professor, diligent and skilled breed association executive, innovator, and loyal friend of seedstock and commercial cattlemen.

As executive vice president of the American Simmental Association (ASA) since 1996, Lipsey has provided thoughtful and effective leadership at a critical time to the organization's future. He has worked tirelessly to open lines of communication with researchers, universities, feeders, packers and other entities involved in beef production. The fact that the ASA continues to be widely respected as a leader and trailblazer clearly illustrates his effectiveness. He is credited for positioning ASA on the forefront of the beef industry, particularly in areas of carcass merit and calving ease.

Raised on a Shorthorn operation in Michigan, Lipsey followed his dream to study at Michigan State University and Kansas State University and then to be a faculty member at the University of Missouri. As a judging team coach and teacher, he became a trusted friend to thousands of students, many of whom remain in touch.

During a four-year term with the American Angus Association, he directed the Association's youth program and was instrumental in establishing the highly successful Certified Angus Beef (CAB) program.

Lipsey has been a strong supporter of BIF, participating in the annual meeting as speaker or moderator on several occasions.

A devoted family man, Lipsey and his wife, Peggy, are proud parents of two married children, Jason and Amanda.

BIF was formed as a means to standardize performance programs and methodology and to create greater awareness, acceptance and usage of beef cattle performance concepts. More information about BIF can be found on the organization's Web site, www.beefimprovement.org.