Michael MacNeil Receives BIF Continuing Service Award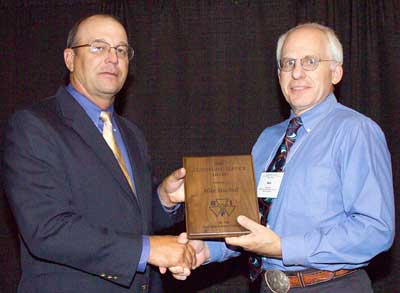 Michael MacNeil (right) of the USDA-ARS Fort Keogh Livestock and Range Research Laboratory, Miles City, Mont., receives a Continuing Service Award from 2005 BIF President Jimmy Holliman.



BILLINGS, Mont. (July 7, 2005) — The Beef Improvement Federation (BIF) honored Michael MacNeil with its Continuing Service Award during the organization's 37th annual meeting July 6-9, 2005, in Billings, Mont. The award recognizes individuals for their service to the organization and to the beef industry.

Currently an animal research geneticist at the U.S. Department of Agriculture (USDA) Agricultural Research Service (ARS) Fort Keogh Livestock and Range Research Laboratory located near Miles City, Mont., MacNeil was born in Warsaw, N.Y., in 1952. He and his two sisters and brother grew up in Ithaca, N.Y., where his father served as men's basketball coach at Cornell University.

MacNeil's college received a bachelor's degree in agriculture science from Cornell in 1974, a master's degree in animal science from Montana State University in 1977, and a doctorate in animal breeding from South Dakota State University in 1982. Prior to arriving at Fort Keogh in 1989, MacNeil served as a statistician and research animal scientist at the USDA-ARS Roman L. Hruska U.S. Meat Animal Research Center (MARC) near Clay Center, Neb. He and his wife, Betty, have two children, Megan and Brendon.

Throughout his career, MacNeil's work has focused on developing genetic selection technologies that assist the beef cattle industry in their continuing quest to improve quality of beef products produced and economic efficiencies and profitability of production.

MacNeil has worked closely with numerous breed associations, groups such as BIF, BeefBoosters Cattle Ltd., Circle A Angus Sire Alliance, and several state university Extension services, as well as a host of international agencies and universities in his quest to provide scientifically sound, user-friendly technologies for beef improvement.

BIF was formed as a means to standardize performance programs and methodology and to create greater awareness, acceptance and usage of beef cattle performance concepts. More information about BIF can be found on the organization's Web site, www.beefimprovement.org.