Jack and Gini Chase Receive BIF Pioneer Award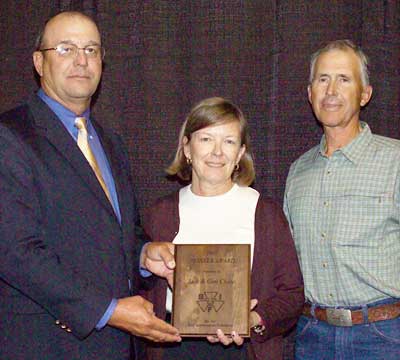 BIF President Jimmy Holliman (left) presents the Pioneer Award to Gini and Jack Chase of Buffalo Creek Red Angus, Leiter, Wyo.
BILLINGS, Mont. (July 7, 2005) — The Beef Improvement Federation (BIF) honored Jack and Gini Chase, Leiter, Wyo., with the Pioneer Award during the organization's 37th annual meeting July 6-9, 2005, in Billings, Mont. The award recognizes individuals who have made lasting contributions to the improvement of beef cattle.

Jack and Gini Chase own and operate Buffalo Creek Red Angus. Initially run as a commercial cow-calf operation, Jack took over management of the 34,000-acre ranch in spring 1961, with Gini joining him in 1963 upon their marriage. Their first Red Angus bulls were purchased from Beckton Stock Farm, Sheridan, Wyo. One of these bulls was put in a single-sire pasture with a group of black cows. The next fall the resulting calves outweighed everything else on the ranch, and the course was set for Buffalo Creek.

Buffalo Creek's purebred program began in 1972, when Gini purchased a small number of purebred cows from Morris Dixon. Later, cows were purchased from Landrey's, Beckton and Mid-America. The Chases' management and philosophy is dictated by their commercial origins, and they consider the commercial producer their primary customer.

The Buffalo Creek program is to raise the most productive cattle possible with the least amount of inputs. Cattle have to be well-balanced for calving ease, growth (which includes mature size) and carcass traits. They must be fertile, reaching sexual maturity at an early age. Females must conceive within a 45-day breeding season every year in order to stay in the herd. All bred females calve out in the pastures in May and June, with the Chases checking the herd twice a day to weigh and tag newborns. Except very old cows and cows known to be carrying twins, females are wintered out, with no supplemental feed except minerals.

"We intend to keep within the profitable boundaries and to produce a product that is consistently uniform, easy and efficient to raise, maintain and feed out, with an end result that is tender and delicious for the consumer," the Chases say.

Both Jack and Gini are active leaders in the beef industry. Both have served on the board of directors of BIF and the Red Angus Association of America (RAAA), with Jack serving as president of both organizations and Gini as vice president of RAAA. Gini was also on the RAAA Strategic Planning Committee that recommended the implementation of Total Herd Reporting and a Commercial Marketing Program. The Chases were founding members of the Wyoming Beef Cattle Improvement Association (WBCIA), with Jack serving as president. From the RAAA, they have twice been named Breeder of the Year, received the Distinguished Service Award and were named Pioneer Breeder of the Year.

BIF was formed as a means to standardize programs and methodology and to create greater awareness, acceptance and usage of beef cattle performance concepts. More information can be found on the organization's Web site, www.beefimprovement.org.