Jack Cooper Receives BIF Pioneer Award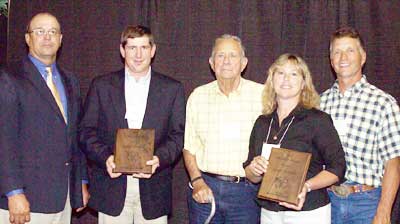 Montana Hereford breeders Jack Cooper and Les Holden receive Pioneer awards from 2005 BIF President Jimmy Holliman (left). Receiving the awards are (continuing from left) Jack Holden, Jack Cooper, Christy Cooper and Mark Cooper.
BILLINGS, Mont. (July 7, 2005) — The Beef Improvement Federation (BIF) honored Jack Cooper, Willow Creek, Mont., with the Pioneer Award during the organization's 37th annual meeting July 6-9, 2005, in Billings, Mont. The award recognizes individuals who have made lasting contributions to the improvement of beef cattle.

In 1946 Jack Cooper inherited the ranch near Willow Creek that his father, Frank, had purchased in 1913. Growing hay and grain, Jack also ran commercial cattle and sheep for a time. In 1947, at the encouragement of his brother-in-law Ray Woodward, he purchased 40 Line One Hereford heifers from the Fort Keogh Livestock and Range Research Laboratory in Miles City, Mont. At the time, Line One Herefords were either little known or frowned upon, but performance traits were the main factor of the breed. For 15 years, the station had been breeding the line from Advance Domino 13th, the progenitor of Line One Herefords. Woodward was project leader.

In 1948, Jack married Phyllis Garcelon. Their children are Robert, Mark and Lois.

Jack began number-branding and performance testing his cattle, using his precise records to breed animals with desirable traits. By the time the Montana Beef Performance Association (MBPA) was formed in the late 1950s, with Jack as a charter member, he had 10 years of experience with Line One Herefords and performance testing. Jack later joined the American Hereford Association (AHA) Total Performance Records (TPR) program in 1960.

After receiving considerable recognition for their dedication to performance testing, Jack and his half-brother Les Holden hosted a joint auction in April 1967 to market their bull calves. At that first sale in Great Falls, Mont., they sold 38 yearling bulls for an average of $664 each. By the time of the last joint auction, in 1979, their sale averaged $12,887, setting a new record for a Hereford bull sale. They began to host their sales individually in 1980.

Performance testing has been a vital tool for the Coopers. In 1975 the average 205-day weight on all calves (without creep-feeding) was 563 pounds (lb.), while the average 365-day weight was 958 lb. By 2005, the 205-day average and the 365-day average grew to 700 lb. and 1,277 lb., respectively. Today, the cattle are still being selected for model birth weight, and Mark Cooper continues to add performance, milk and positive carcass traits to his herd.

The Cooper-Holden influence has spread. Recent AHA sire summaries show 16% of the highest-ranking Hereford sires tested in the United States are from the Cooper and Holden herds.

Jack Cooper has served six years on the MBPA board of directors. He has received a number of awards, including 1975 Outstanding Cattleman by Gallatin Beef Producers, 1975 BIF Seedstock Breeder of the Year, 1979 Agriculture Recognition Award by Bozeman Chamber of Commerce and 1980 Outstanding Agriculturist by Bozeman Chapter of Alpha Zeta. In 1980 he was inducted into AHA's Hereford Heritage Hall Honor Gallery, and he was named Livestock Man of the Year in 1981 by the Fort Keogh Livestock and Range Research Laboratory.

Throughout the years, the Coopers have purchased several neighboring farms and ranches. Today, Cooper Hereford Ranch is managed by Mark and Cristy Cooper and has more than 5,000 acres, with 600 acres of grain, 1,000 acres of sprinkle-irrigated cropland, and the remainder in pasture for their 200 head of registered livestock. Goals for the ranch are very similar to when Jack started, with a strong emphasis on performance testing and selection pressure on calving ease and positive carcass traits.

BIF was formed as a means to standardize programs and methodology and to create greater awareness, acceptance and usage of beef cattle performance concepts. More information can be found on the organization's Web site, www.beefimprovement.org.