Dale Davis Receives BIF Pioneer Award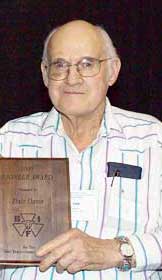 Dale Davis, Rollin' Rock Angus, receives a Pioneer Award.

BILLINGS, Mont. (July 7, 2005) — The Beef Improvement Federation (BIF) honored Dale Davis, Belgrade, Mont., with the Pioneer Award during the organization's 37th annual meeting July 6-9, 2005, in Billings, Mont. The award recognizes individuals who have made lasting contributions to the improvement of beef cattle.

Dale Davis was born in North Dakota in 1925. When he was 11 years old, he and his family moved to Montana, where they settled in Bridger Canyon, east of Bozeman. His first venture with the beef business involved the purchase of Angus heifers as 4-H and FFA projects in the late 1930s.

He had to sell his 4-H and FFA project animals prior to entering military service. But, upon completion of his World War II duties, he returned to Montana and began his involvement in the cattle industry in earnest. In 1956 Davis purchased his foundation Angus seedstock and named his herd Rollin' Rock Angus.

After attending a seminar sponsored by the Montana Beef Performance Association (MBPA), Davis became fascinated with the concept of growth heritability and how this related to economics. After successfully applying these principles in his own program, Davis became an early advocate of performance testing. He served multiple terms as director and president of MBPA.

Davis served two terms as a director of the American Angus Association, chairing the Association's Breed Improvement Committee during a time of tremendous expansion in performance programs. He was instrumental in establishing the basic structure of Angus Herd Improvement Records (AHIR) and was and continues to be an avid spokesman for performance evaluation in the beef industry.

Davis always practiced what he preached. He is often referred to as the breeder of RR Rito 707, a foundation Angus sire of the modern-day line of Rito cattle. Davis will go down in history as an icon in the evolution of the Angus breed. His ideas and concepts were visionary, he was unwavering in his commitment to the application of scientific principles to beef cattle improvement, and the success he observed in his own program proved he was right.

BIF was formed as a means to standardize programs and methodology and to create greater awareness, acceptance and usage of beef cattle performance concepts. More information can be found on the organization's Web site, www.beefimprovement.org.