Les Holden Receives BIF Pioneer Award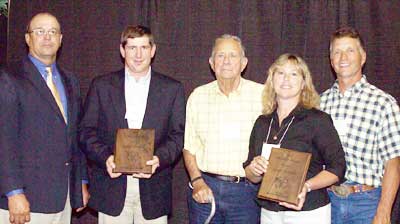 Montana Hereford breeders Jack Cooper and Les Holden receive Pioneer awards from 2005 BIF President Jimmy Holliman (left). Receiving the awards are (continuing from left) Jack Holden, Jack Cooper, Christy Cooper and Mark Cooper.
BILLINGS, Mont. (July 7, 2005) — The Beef Improvement Federation (BIF) posthumously honored Les Holden with the Pioneer Award during the organization's 37th annual meeting July 6-9, 2005, in Billings, Mont. The award recognizes individuals who have made lasting contributions to the improvement of beef cattle.

Les Holden was born in 1911 in Reno, Nev. Upon his father's death, his mother moved to Montana, where she married widower and cattleman Frank Cooper. Les attended Montana State University-Bozeman, later transferring to Billings Polytechnic Institute, now called Montana State University-Billings. There he met Ethel Everson, a student at Western Montana College. They were married in 1936 and had two sons, John and Scott.

Because he liked working outdoors and with cattle, he resigned a position as a loan supervisor to go back to ranch with the Coopers in 1938. A few years later, they leased a ranch on Willow Creek. In 1945 they sold Les' share in the Cooper ranch to his half brother, Jack Cooper, and moved to an irrigated farm leased just south of Townsend, Mont., where they raised commercial Hereford cattle.

The inception of their registered herd began with the purchase of a Line One Hereford sire from the Fort Keogh Livestock and Range Research Laboratory at Miles City in 1947. Their son John got a registered Hereford heifer for a 4-H project in 1952, after which they acquired two consecutive heifer calf crops from Carl Keickbush of Townsend. The dams of these heifers were of Advance Domino descent, and they were sired by Advance Mixer 60th, who traced back to Advance Domino 13th, the basic grandsire of the Line One Herefords at the Fort Keogh research station.

In 1954, Les and Ethel sold all of their older grade cows, using the proceeds as a down payment for two adjacent irrigated farms southwest of Valier, Mont.

Les joined the Montana Beef Performance Association (MBPA) in the late 1950s as a charter member. He served as president in 1965 and 1966. He was a great believer in measuring traits and in producing problem-free cattle. He culled extremely hard on the cow herd, concentrating on udders and soundness. When pushing performance negatively affected herd fertility, he instituted a 55-day breeding season to find cows that could milk, produce and still breed back in a timely manner. When he noticed birth weights increased as performance increased, he started selecting bulls that were moderate on birth and still high in growth. This was the start of a consistent commitment to multi-trait selection.

The First Annual Cooper-Holden Bull Sale took place in 1967 at Great Falls. The sales didn't make headlines the first few years, but that changed following the high-dollar sale of a bull to a prominent breeder and as the trend changed to longer, taller Herefords in the 1970s.

The computer era helped continue the pace of genetic improvement, especially when the American Hereford Association (AHA) came out with its Total Performance Records (TPR) program. Les started to select for scrotal circumference and pigmentation on eyes, scrotums and udders. Always looking for new ways to measure and improve his cattle, he attended as many BIF meetings and seminars as he could, monitored research at Miles City, and constantly read about performance testing.

Holden Herefords incorporated in 1975, with Les continuing to manage the ranch until 1987, at which time his grandson Jack became the manager.

Les was the BIF Beef Performance Breeder of the Year in 1975; Montana Hereford Man of the Year in 1978; and Record Stockman Livestock Man of the Year in 1981. He was selected for the Honor Gallery in Heritage Hall in 1980 by AHA and received the Producer Recognition Award from the Fort Keogh research station. He died June 30, 2004.

BIF was formed as a means to standardize programs and methodology and to create greater awareness, acceptance and usage of beef cattle performance concepts. More information can be found on the organization's Web site, www.beefimprovement.org.