2005 Seedstock Producer of the Year Award Winner

Click here for past Angus Journal coverage of Rishel Angus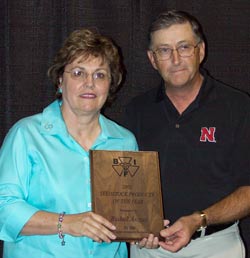 Rishel Angus of North Platte, Neb., was named the 2005 Seedstock Producer of the Year by the Beef Improvement Federation. Accepting the award are Barb and Bill Rishel.

The Beef Improvement Federation (BIF) awarded the 2005 Seedstock Producer of the Year award to Rishel Angus, North Platte, Neb. Rishel Angus is a family-owned purebred Angus operation that has been in business since 1966.

The Rishel Angus mission statement reads: "to produce superior Angus genetics based on economically important traits that provide profit for our customers, create value for all segments of the beef industry, and ensure a satisfying eating experience for the consumer."

Rishel Angus is known in the seedstock industry as one of the very first breeders of Angus cattle to make a substantial commitment to identifying and improving carcass merit. The belief at Rishel Angus, then and now, is that the real focus should be directed toward the acceptance of the consuming public for beef's end product. Because of these efforts, many of the leading sires for carcass merit in the Angus breed now carry Rishel Angus', "B/R" prefix. In fact, currently, 40 proven sires and 9 young sires listed in the National Angus Sire Evaluation Report are Rishel Angus bred bulls. One of these sires, B/R New Design 036, ranks third among all proven Angus sires for Pathfinder daughters and has the top 10 Pathfinder sons in the breed, and maintains the highest percentage of Pathfinder daughters of those eligible.

Rishel Angus has collected and used complete performance records on all cattle since the inception of the herd. These records have allowed them to not only identify many outstanding sires, but also to identify and perpetuate numerous outstanding cow families and individual cows.

The Rishel Angus herd consists of 300 Angus cows and 100 Angus heifers. For the last 23 years, a yearling bull sale has taken place on the fourth Monday in March, and for the last 26 years a female sale has taken place on the first Sunday in October. Rishel Angus operates on a combination of 11,000 deeded and leased acres, with wintering and calving at the headquarters located 10 miles south of North Platte.


Rishel Angus was nominated by the Nebraska Cattlemen and the University of Nebraska.


BIF was formed as a means to standardize programs and methodology and to create greater awareness, acceptance and usage of beef cattle performance concepts. More information can be found on the organization's Web site, www.beefimprovement.org.