2009 BIF
Seedstock Producer of the Year
Harrell Hereford Ranch Named Seedstock Producer of the Year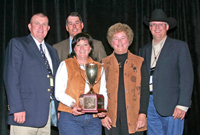 [Photo by Cornerpost Publications,
publisher of the California Cattleman.]

(click picture to enlarge)
SACRAMENTO, CALIF. (May 1, 2009) – The Beef Improvement Federation (BIF) recognized Harrell Hereford Ranch of Baker City, Ore., and Champion Hill Inc. of Bidwell, Ohio, as the 2009 seedstock producers of the year during its 41st Research Symposium and Annual Meeting April 29-May 2 in Sacramento, Calif.
Traditionally, a single breeder is honored, but this year, the committee selected two producers deserving of the nation's top seedstock award, sponsored by BEEF magazine, Minneapolis, Minn.
In 1870, ancestors of the Harrell family traveled the Oregon Trail, settling near Baker City, Ore. Three generations later, in 1970, Bob and Edna Harrell established the Harrell Hereford Ranch along the foothills in eastern Oregon's Baker Valley.
The ranch is family-owned and -operated with Bob Harrell Jr.; his wife, Becky; and their daughter, Lexie, sharing the duties with his mother, Edna, and his sister and brother-in-law, Beth and Wannie Mackenzie, who are also involved as partners in the Harrell-Mackenzie Quarter Horse operation.
"To be nominated by the American Hereford Association for this award was a great honor in itself, but to actually be recognized at this level is more than our family could have ever imagined," says Bob Harrell Jr. "To be voted one of the top seedstock producers in this country by the most prestigious body of performance-minded producers in the world is a feeling that will probably never be matched again in our lifetime."
The cattle ranch originated with 100 head of Hereford cows purchased from TT Herefords, Connell, Wash., and 80 acres of land. Today, the operation has grown to six ranches, consisting of 300 registered Hereford cows, 400 black baldy commercial cows, an 800-head feedlot for backgrounding cattle and 45 Quarter Horse broodmares. The cattle graze on 8,000 acres of high-desert, native range and 3,000 irrigated tillable acres on which alfalfa and meadow hay, corn silage, earlage and small grains are raised.
The Harrell herd has been performance testing since its inception in 1970, and for nearly four decades the goal has been to produce performance cattle that work under a variety of management systems and branded beef programs.
The Harrell's celebrated their 30th anniversary sale in 2009, offering more than 100 bulls, 30 heifers and 20 Quarter Horses to buyers from 11 states and Canada. The successful event was driven by the program's adherence to the economics of the American beef industry and their role as a seedstock leader. Through their breeding and customer programs, the Harrells have emerged as a true genetics and marketing partner for their commercial customers.
"Harrell Herefords is one of the most progressive seedstock producers in the United States. They are the epitome of a family operation and understand what their commercial customers expect out of their program because they are also in the commercial cattle business," says Matt Macfarlane of Matt Macfarlane Marketing, Sheridan, Calif. "The Hereford genetics offered by the Harrell family are truly balanced and are backed by one of the great cow herds of any breed in the country."
To find out more about the Harrell Hereford Ranch, visit www.harrellherefordranch.com.
For a release on co-winners Champion Hill, click here.



Editor's Note: This release is provided by the Beef Improvement Federation. The 41st BIF Research Symposium and Annual Meeting was hosted by the California Beef Cattle Improvement Association (CBCIA) and the California Cattlemen's Association (CCA). For more information, contact Kelli Toledo at 559-972-8987 or visit www.calcattlemen.org/bif2009.html.