Award Winners
Daley Honored with 2009 BIF Continuing Service Award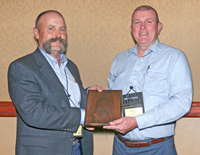 BIF Outgoing President Tommy Brown, Clanton, Ala., presents David Daley (left), Oroville, Calif., with a BIF Continuing Service Award during the organization's 41st Research Symposium and Annual Meeting in Sacramento, Calif.
[Photo by Cornerpost Publications, publisher of the California Cattleman.]
(click picture to enlarge)
SACRAMENTO, CALIF. (May 1, 2009) – The Beef Improvement Federation (BIF) honored David Daley with a Continuing Service Award May 1 during the organization's 41st Annual Research Symposium and Annual Meeting in Sacramento, Calif. The event was hosted by the California Beef Cattle Improvement Association (CBCIA) and the California Cattlemen's Association (CCA). The award recognizes individuals who have made major contributions to the BIF and/or the beef industry.
Together with his wife, Cindy, and their three children, Daley owns and operates a commercial cow-calf and seedstock operation based in Oroville, Calif., where his family has been ranching for five generations.
In the early 1990s, Daley founded and coordinated an international group of progressive cattlemen and academics focused on the use of composite and hybrid seedstock in the beef industry. For nearly a decade, the national meetings for the Composite Cattle Breeders' International Alliance became a think-tank for progressive leaders in the industry to evaluate and compare nontraditional approaches to cattle breeding.
More recently, he has been coordinating research projects with Harris Ranch Beef Co., Coalinga, Calif., and Lacey Livestock, Independence, Calif., on the utilization of DNA fingerprinting in beef production and evaluating the implication of crossbreeding in vertically coordinated beef systems.
Daley has also been actively involved in the potential application and implementation of the National Animal Identification System (NAIS), including hosting a nationally recognized animal identification academy.
He presently serves as the president of the Butte County Cattlemen's Association, a technical advisor to the CBCIA and is active on state and national issues that affect the beef industry. His present involvement focuses on the implication of animal welfare issues to the beef industry, serving as vice chair of a statewide task force, as well as on an advisory committee for the University of California, Davis, on the same topic.
In addition, he currently serves as the associate dean of the College of Agriculture and the director of the Agricultural Teaching and Research Center at California State University, Chico, where he manages a diversified farming operation and supervises the beef program. In that capacity, he has worked to develop and mentor student members of the California Young Cattlemen's Association, an organization designed to develop future leaders in the beef industry.


Editor's Note: This release is provided by the Beef Improvement Federation. The 41st BIF Research Symposium and Annual Meeting was hosted by the California Beef Cattle Improvement Association (CBCIA) and the California Cattlemen's Association (CCA). For more information, contact Kelli Toledo at 559-972-8987 or visit www.calcattlemen.org/bif2009.html.