FOR IMMEDIATE RELEASE
For a high-resolution photo of the winner, click here.

For more information contact:
Joe Cassady, executive director, Beef Improvement Federation, North Carolina State University; 919-513-0262; joe_cassady@ncsu.edu; www.BIFconference.com; www.beefimprovement.org
Carlson Honored as BIF Ambassador
BOZEMAN, Mont. (June 2, 2011) — The Beef Improvement Federation (BIF) recognized Jay Carlson of BEEF magazine with the 2011 Ambassador Award during its 43rd annual meeting and research symposium in Bozeman, Mont., June 1-4. This award is given annually by BIF to a member of the media for his or her efforts in spreading news of BIF and its principles to a larger audience.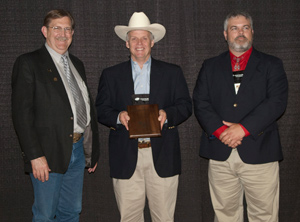 Jay Carlson (center), BEEF magazine, receives the BIF 2011 Ambassador Award from 2010-2011 BIF President Ben Eggers (left), and BIF Executive Director Joe Cassady.
As regional sales manager for BEEF and its digital communications properties, Carlson has been instrumental in working to promote awareness among producers of BIF and what it stands for. Arguably the nation's top marketer on a volume basis of print and online livestock advertising, Carlson has long been a top promoter of livestock publishing in North America. He was awarded the Ed Bible Distinguished Service Award in 2006 by the Livestock Publications Council (LPC), on whose board of directors he currently serves.
Carlson grew up on a small farm near Lockport, Ill., where he was active in 4-H, FFA and sports. An honors scholar, he obtained a bachelor's degree in agriculture from the University of Missouri-Columbia (MU) in 1976. While at MU, Carlson served as regional president for Block & Bridle, and also participated on the MU livestock judging team. Carlson was named a Distinguished Alumni of MU's Animal Science Department in 2010.
He is a lifelong participant in livestock showmanship activities, an involvement that continues today and an interest he fostered in the lives of his two daughters, Grace and Claire. His current activities include serving as a livestock committee member for the American Royal Livestock Show, as well as superintendent for the Junior College Livestock Judging Contest at the Royal.
Carlson's time in the livestock industry covers several decades, during which he has had the opportunity to meet many influential people. He loves the history of the beef industry and has been a good friend to many who have made that history. Carlson holds those who have shaped this organization in great esteem. BIF was formed as a means to standardize programs and methodology, and to create greater awareness, acceptance and usage of beef cattle performance concepts. Carlson and his involvement with BIF have helped to create this greater awareness.
He was instrumental in making BEEF the official publication of BIF and in helping get BEEF involved as the first major sponsor of BIF many years ago. Carlson helped pave the way for additional sponsors to get involved. He helped promote the BIF mission through editorial in BEEF magazine, provided BIF with free advertising in a national beef publication and gave BIF free press by recognizing the seedstock and commercial producers of the year.
His family includes his wife, Linda, and daughters. Grace is a freshman medical student at MU, while Claire is a sophomore agriculture communications major at Kansas State University. Carlson is also an Elder in his local church and continues to volunteer as a youth group leader.
Carlson was presented the BIF Ambassador Award at a luncheon Thursday, June 2, in Bozeman.
For more information about the about this year's symposium, including additional award winners and coverage of the meeting and tours, visit www.BIFconference.com. For more information about the BIF organization, visit www.beefimprovement.org.
###
Editor's Note: This article is provided as a news release by the Beef Improvement Federation. For a high-resolution photo of the winner, additional award announcements and coverage of the meeting, visit the Awards page at www.BIFconference.com.
The Beef Improvement Federation (BIF) was formed more than 40 years ago as a means to standardize beef cattle performance programs and methodologies and to create greater awareness, acceptance and usage of these concepts of genetic improvement. BIF represents more than 40 state and national beef cattle associations. For more details about the BIF organization, contact Executive Director Joe Cassady at 919-513-0262.