FOR IMMEDIATE RELEASE
For a high-resolution photo of the winner, click here.

For more information contact:
Joe Cassady, executive director, Beef Improvement Federation, North Carolina State University; 919-513-0262; joe_cassady@ncsu.edu; www.BIFconference.com; www.beefimprovement.org
Enns Honored For Continuing Service
BOZEMAN, Mont. (June 2, 2011) — The Beef Improvement Federation (BIF) honored Richard "Mark" Enns, Colorado State University (CSU), with its Continuing Service Award during the organization's 43rd annual meeting and research symposium in Bozeman, Mont., June 1-4. The award recognizes those who have made a significant contribution to the industry.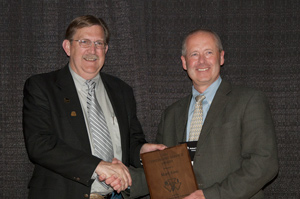 From left, 2010-2011 BIF President Ben Eggers presents the 2011 Continuing Service Award to Mark Enns, Colorado State University.
Enns was born and raised near Enid, Okla. During his youth, he gained valuable production experience working on his family's wheat and cattle farm. In 1987, he received dual degrees in biology and natural science from Tabor College, Hillsboro, Kan. A year later, following a stint in private industry, he began work on a master's degree in animal breeding and genetics under the supervision of Jim Brinks in the CSU Department of Animal Sciences. Enns completed his doctoral studies under the co-direction of Rick Bourdon and Jim Brinks.
During his graduate studies he worked as a research associate for the CSU Beef Cattle Improvement Center near Encampment, Wyo. His duties included development of breeding plans and supervision of data collection and database management for the 450-head purebred Angus herd.
Following completion of his doctoral studies, Enns served as a visiting research scientist for Landcorp Farming Ltd. in New Zealand. While there he developed genetic evaluation systems and breeding programs for the company's deer, sheep, goat and beef enterprises.
Enns joined the animal sciences faculty at the University of Arizona in 1995 as an assistant professor. In 2001, he returned to CSU's Department of Animal Sciences as assistant professor, where his appointment includes research, teaching and outreach components. He was promoted to associate professor in 2007.
From 2003-2008, Enns supervised the activities of the CSU Center for Genetic Evaluation of Livestock, which provides genetic evaluation system development and services to a number of U.S. and international clients. He teaches a number of graduate and undergraduate courses at CSU and has been a member of a multi-state faculty team that has developed a popular breeding and genetics online curriculum for graduate students. Enns represents CSU on the Scientific Council of the National Beef Cattle Evaluation Consortium (NBCEC), where he's provided leadership for a number of years. 
His research program focuses on methods to genetically evaluate and select animals that fit their production environment both biologically and economically. These efforts include development of new methods for evaluating and improving cow and heifer fertility, cow maintenance requirements, time to finish in the feedlot; and development of methods to better use economic information in selection decisions for increased profitability of beef production. His productive research program has attracted more than $13 million dollars in extramural support. Most notably, Enns was the project coordinator for the NBCEC Genetics of Feedlot Cattle Health project and is co-principal investigator on a recently funded $9 million project to investigate the genetic basis of bovine respiratory disease (BRD).
Enns has authored or co-authored and published 47 peer-reviewed scientific manuscripts, five book chapters, 54 conference or symposia proceedings, 53 abstracts and numerous technical reports and popular press articles. He has given more than 120 invited presentations and symposia to a variety of state, national and international audiences.
His expertise is recognized around the world as exemplified by his service as a peer reviewer for scientific journals and authors in Canada, South Africa, Australia, Europe and the United States. He has served on a number of breed improvement and technical advisory committees.
Enns has been an active leader in BIF and a proponent of the BIF mission. He is an advocate of practical, modern beef cattle genetic selection systems. His contribution to BIF includes service as the western regional secretary and chairman of the Cow Herd Efficiency Committee since 2003. Enns was a leader and member of Colorado Host committee for the 39th BIF research symposium and annual meeting in Fort Collins, Colo., in 2007. He has distinguished himself through sustained service to BIF and its mission, making him a worthy recipient of the BIF Continuing Service Award.
Enns was presented his award at an awards luncheon Thursday, June 2, in Bozeman.
For more information about the about this year's symposium, including additional award winners and coverage of the meeting and tours, visit www.BIFconference.com. For more information about the BIF organization, visit www.beefimprovement.org.
###
Editor's Note: This article is provided as a news release by the Beef Improvement Federation. For a high-resolution photo of the winner, additional award announcements and coverage of the meeting, visit the Awards page at www.BIFconference.com.
The Beef Improvement Federation (BIF) was formed more than 40 years ago as a means to standardize beef cattle performance programs and methodologies and to create greater awareness, acceptance and usage of these concepts of genetic improvement. BIF represents more than 40 state and national beef cattle associations. For more details about the BIF organization, contact Executive Director Joe Cassady at 919-513-0262.