FOR IMMEDIATE RELEASE
For a high-resolution photo of the winner, click here.

For more information contact:
Joe Cassady, executive director, Beef Improvement Federation, North Carolina State University; 919-513-0262; joe_cassady@ncsu.edu; www.BIFconference.com; www.beefimprovement.org
Brown Honored for Continuing Service
BOZEMAN, Mont. (June 2, 2011) — The Beef Improvement Federation (BIF) honored Tommy Brown, Clanton, Ala., with its Continuing Service Award during the organization's 43rd annual meeting and research symposium in Bozeman, Mont., June 1-4. The award recognizes those who have made a significant contribution to the industry.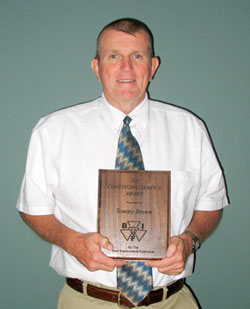 Tommy Brown, Clanton, Ala., is shown with the 2011 BIF Continuing Service Award recognizing him for the significant contributions he has made to the beef industry.
Brown has spent his entire professional career with the goal of educating cattle producers on the importance of performance traits in cattle selection. Brown, who retired after a 32-year career as a county agent and regional animal scientist, is credited with being the innovator that moved the Alabama cattle industry to a higher plane through the use of performance records and new marketing schemes.
Under his leadership, feeder-calf sales were developed to market Alabama calves in truckload groups and special heifer sales featuring genetically superior females were established. Brown also established a bred heifer sale that continues to provide opportunities for both buyers and sellers to capitalize on the need for good cattle.
Brown has received numerous awards during his career, including the prestigious Richard Deese Award, which is given by the Alabama Beef Cattle Improvement Association (BCIA) for outstanding service and dedication to the Alabama BCIA and its performance principles.
He has served two terms on the BIF board of directors and was elected president in 2008. He has been on the BIF program many times as a speaker or as a moderator at the annual convention. Brown has served as an advisor for the National Beef Cattle Evaluation Consortium (NBCEC). He served two terms as a trustee of the American Simmental Association (ASA), where he was chairman of the Beef Improvement Committee.
Meadow Lane Farms, which is owned by Brown, is one of the early sources for quality black Simmental genetics in the Southeast. Meadow Lane has produced cattle that are in high demand as evidenced by their ability to sell at the top of many BCIA sales, as well as the Sunshine Farms bull sale.
He is currently serving as genetic and marketing manager at Sunshine Farms, which, under his leadership, has developed a reputation for producing outstanding cattle within a system where selection decisions are data-driven.
Brown is a graduate of Auburn University, where he received his bachelor's and master's degrees. He and his wife, Linda, are the parents of two children, Lee and Jill, and two grandchildren.
For more information about the about this year's symposium, including additional award winners and coverage of the meeting and tours, visit www.BIFconference.com. For more information about the BIF organization, visit www.beefimprovement.org.
###
Editor's Note: This article is provided as a news release by the Beef Improvement Federation. For a high-resolution photo of the winner, additional award announcements and coverage of the meeting, visit the Awards page at www.BIFconference.com.
The Beef Improvement Federation (BIF) was formed more than 40 years ago as a means to standardize beef cattle performance programs and methodologies and to create greater awareness, acceptance and usage of these concepts of genetic improvement. BIF represents more than 40 state and national beef cattle associations. For more details about the BIF organization, contact Executive Director Joe Cassady at 919-513-0262.