FOR IMMEDIATE RELEASE
For a high-resolution photo of the winner, click here.

For more information contact:
Joe Cassady, executive director, Beef Improvement Federation, North Carolina State University; 919-513-0262; joe_cassady@ncsu.edu; www.BIFconference.com; www.beefimprovement.org
Lipsey Honored with BIF Pioneer Award
BOZEMAN, Mont. (June 3, 2011) — The Beef Improvement Federation (BIF) honored Ralph Jarold "Jerry" Lipsey with the Pioneer Award during the organization's 43rd annual meeting and research symposium in Bozeman, Mont., June 1-4. The award recognizes individuals who have made lasting contributions to the improvement of beef cattle, honoring those who have had a major role in acceptance of performance reporting and documentation as the primary means to make genetic change in beef cattle.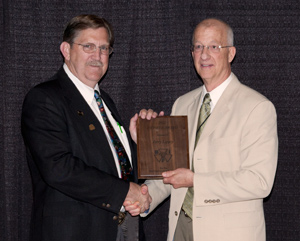 From left, 2010-2011 BIF President Ben Eggers presents the 2011 BIF Pioneer Award to Jerry Lipsey, American Simmental Association.
Lipsey was raised on a small cattle and grain farm in Charlotte, Mich. He obtained his bachelor's and master's degrees from Michigan State University and a doctorate in meat science from Kansas State University.
He started his career in 1978 as the director of junior activities for the American Angus Association. In 1982, he began what would be a 15-year tenure as a University of Missouri (MU) meat science professor. Then, in 1996, he accepted the position of executive vice president at the American Simmental Association (ASA), a position he currently holds.
Fairly described as the industry's energizer bunny, Lipsey's legendary energy level and infectious enthusiasm influence all those who come in contact with him. An award-winning teacher and advisor while at MU, his educational efforts stretch well beyond the classroom to all facets of the industry. A small army could be fielded with the "students" he has positively influenced. Many beef industry leaders credit Lipsey's teaching and mentorship as key to their success.
As executive vice president, Lipsey has provided visionary and effective leadership to the ASA at a critical time in the organization's life. Immediately upon his hiring, he leveraged his meat science background to implement what would become the longest ongoing and largest structured sire test in the industry — ASA's Carcass Merit Program. 
As one of the industry's most skillful communicators, he has worked tirelessly to open lines of communication between researchers, educators, seedstock and commercial producers, feeders and packers. His leadership is credited with positioning ASA at the top tier of seedstock organizations.
Lipsey has had a significant effect on the beef industry, as a highly respected animal scientist and college professor, diligent and skilled breed association executive, innovator, and loyal friend.
A devoted family man, Lipsey and his wife of 43 years, Peggy, have two children, Jason and Amanda, and one grandchild, Max.
Lipsey was presented the BIF Pioneer Award at a luncheon Friday, June 3, in Bozeman.
For more information about the about this year's symposium, including additional award winners and coverage of the meeting and tours, visit www.BIFconference.com. For more information about the BIF organization, visit www.beefimprovement.org.
###
Editor's Note: This article is provided as a news release by the Beef Improvement Federation. For a high-resolution photo of the winner, additional award announcements and coverage of the meeting, visit the Awards page at www.BIFconference.com.
The Beef Improvement Federation (BIF) was formed more than 40 years ago as a means to standardize beef cattle performance programs and methodologies and to create greater awareness, acceptance and usage of these concepts of genetic improvement. BIF represents more than 40 state and national beef cattle associations. For more details about the BIF organization, contact Executive Director Joe Cassady at 919-513-0262.