FOR IMMEDIATE RELEASE
For a high-resolution photo of the winner, click here.

For more information contact:
Joe Cassady, executive director, Beef Improvement Federation, North Carolina State University; 919-513-0262; joe_cassady@ncsu.edu; www.BIFconference.com; www.beefimprovement.org
Tess Honored with BIF Pioneer Award
BOZEMAN, Mont. (June 3, 2011) — The Beef Improvement Federation (BIF) honored Michael "Mike" Tess with the Pioneer Award during the organization's 43rd annual meeting and research symposium in Bozeman, Mont., June 1-4. The award recognizes individuals who have made lasting contributions to the improvement of beef cattle, honoring those who have had a major role in acceptance of performance reporting and documentation as the primary means to make genetic change in beef cattle.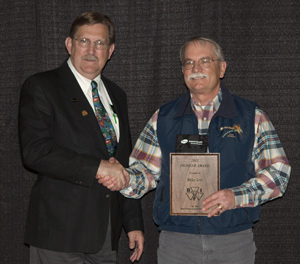 From left, 2010-2011 BIF President Ben Eggers presents the 2011 BIF Pioneer Award to Mike Tess, Packhorse Services LLC, Bozeman, Mont.
Tess grew up on a poultry ranch in California. After obtaining a bachelor's degree in animal science at Cal Poly, San Luis Obispo, Calif., he and his wife, Kathy, moved to Montana to start a beef cattle ranch. His stint as a cattle rancher stoked an interest in animal genetics. The curiosity brought him to Montana State University (MSU), where he earned a master's degree, which he followed with a doctorate in animal breeding under Gordon Dickerson from the University of Nebraska.
Upon completion of graduate school in 1981, Tess accepted a professorship at North Carolina State University. In 1988, he came back to MSU as a professor of animal breeding. While at MSU, he taught several classes, performed research and served as department head at various times. He retired as emeritus professor in 2009.
After retiring, Tess started a private consultancy business dubbed Packhorse Services LLC. He consults for the Bair Ranch Foundation as well as the American Simmental Association and serves as executive director of the Ultrasound Guidelines Council. Tess continues to teach MSU's calving class on a voluntary basis. While taking on all of these responsibilities since retiring from MSU, he has continued, and even stepped up, volunteer efforts at his local church and other charitable organizations.    
His long and productive career has benefited students, fellow beef cattle scientists, beef producers, BIF and the entire beef industry. Even more importantly, Tess has benefited humanity with his tireless contribution of time and financial generosity to those less fortunate. Those who know him know a highly thoughtful, hardworking and devoted family man who lives his life in adherence to the highest ethical standards. Tess has been, and continues to be, one of those remarkable individuals who makes our industry better for all involved.
He and Kathy have four children (Amy, Jacob, Melanie and Joseph) and a 15th grandchild on the way.
Tess was presented the BIF Pioneer Award at a luncheon Friday, June 3, in Bozeman.
For more information about the about this year's symposium, including additional award winners and coverage of the meeting and tours, visit www.BIFconference.com. For more information about the BIF organization, visit www.beefimprovement.org.
###
Editor's Note: This article is provided as a news release by the Beef Improvement Federation. For a high-resolution photo of the winner, additional award announcements and coverage of the meeting, visit the Awards page at www.BIFconference.com.
The Beef Improvement Federation (BIF) was formed more than 40 years ago as a means to standardize beef cattle performance programs and methodologies and to create greater awareness, acceptance and usage of these concepts of genetic improvement. BIF represents more than 40 state and national beef cattle associations. For more details about the BIF organization, contact Executive Director Joe Cassady at 919-513-0262.