News Release
FOR IMMEDIATE RELEASE
June 25, 2015
Writer:
Jena McRell, digital editor, Angus Media; 816-383-5200
For more information contact:
Jane Parish, executive director, Beef Improvement Federation, Mississippi State University; 662-369-4426; www.BIFconference.com; www.beefimprovement.org
For a high-resolution photo of the winner, click here.

E.C. Larkin Honored with BIF Ambassador Award
BILOXI, Miss. (June 11, 2015) — The Beef Improvement Federation (BIF) honored E.C. Larkin, Gulf Coast Cattleman, with the Ambassador Award during the organization's annual meeting and research symposium in Biloxi, Miss., June 9-12, 2015. This award is given annually by BIF to a member of the media for his or her efforts in spreading the news of BIF and its principles to a larger audience.
An active member of the livestock communications industry for the last five decades, Larkin has an impressive résumé that includes time with the Polled Hereford World magazine, the Western Livestock Journal, the Beefmaster Cowman and his current position as publisher of the Gulf Coast Cattleman.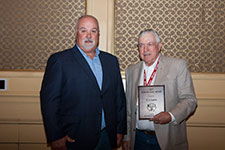 E.C. Larkin (right), Gulf Coast Cattleman, receives the Beef Improvement Federation Ambassador Award from Steve Munger, retiring BIF president. Larkin was recognized during a luncheon June 11 in Biloxi, Miss., at the organization's 47th annual convention.
Larkin is a Texas native who graduated from East Texas State University in 1966. About 10 years later, he purchased the Gulf Coast Cattleman and moved the publication to San Antonio, Texas. The magazine has covered the coastal state region since 1935, with primary distribution in Texas, Louisiana, Mississippi, Alabama, Georgia and Florida. Larkin and his editorial team are known for their common-sense, down-to-earth approach to content.
Many would call Larkin an icon in the southern region, and it's fitting that he is being recognized for his contributions to the Beef Improvement Federation during the conference hosted by Mississippi State University and the Mississippi Extension Service.
A member of the Livestock Publications Council for many years, Larkin served as president from 1984-1985 and was inducted into the organization's Hall of Fame in 2001. He and his wife, Margie, have three children, all who are graduates of Texas A&M University.
In recognition of his many years of service, Boston was presented the BIF Ambassador Award during a luncheon Thursday, June 11.
For more information about this year's symposium, including additional award winners and coverage of meeting and tours, visit www.BIFconference.com. For more information about BIF, visit www.beefimprovement.org.

Editor's Note: This article was written as a news release by Angus Media staff and may be redistributed without further permission.