News Release
FOR IMMEDIATE RELEASE
June 25, 2015
Writer:
Nicole Lane, Angus Journal® intern; 816-383-5200
For more information contact:
Jane Parish, executive director, Beef Improvement Federation,Mississippi State University; 662-369-4426; www.BIFconference.com; www.beefimprovement.org
PHOTO: Available at www.bifconference.com/bif2015/awards.html.


Woodbury Farms Named
BIF Commercial Producer of the Year
SAINT JOSEPH, Mo. (June 25, 2015) — The Beef Improvement Federation (BIF) presented Woodbury Farms of Quenemo, Kan., with the BIF Commercial Producer of the Year Award June 10 during the group's annual convention in Biloxi, Miss. This national award is presented annually to a producer for their dedication to improving the beef industry at the commercial level.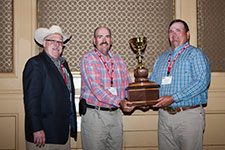 Woodbury Farms, Quenemo, Kan., was named the 2015 Beef Improvement Federation Commercial Producer of the Year during an awards ceremony June 9 at the Beau Rivage Resort and Casino in Biloxi, Miss. Pictured at the awards ceremony are (from left) Wes Ishmael, BEEF Magazine, award sponsor; Howard Woodbury; and John Woodbury.
Woodbury Farms is owned by members of the Fred H. Woodbury family. Howard and John Woodbury manage the operation with their families.
The ranch encompasses a 200-head commercial cow-calf herd, 200-head registered Angus seedstock operation, backgrounding yard and farming business. Although the operation is diverse in nature, the priority remains with the cow herd and its ability to produce high-quality beef in demand by consumers. Through wise utilization of natural resources and years of selective breeding, the Woodburys have developed an efficient, high-producing cow herd, which has allowed them to produce sound cattle from ranch to rail.
The Woodbury's market calves through various avenues. All calves are backgrounded after weaning on native Flint Hills pastures then finished in a commercial feedlot. The majority of the steers are sold through the local sale barn. About 30% of their heifer calves are retained for replacements with a majority of the remainders sold in a production sale in March, along with about 40 yearling bulls from their registered herd.
The brothers collect performance data on their calves to continue to select for genetic improvements. This has helped them be successful competitors in the Flint Hills Beef Fest carcass contests, winning the steer carcass contest in 2012.
More than 400 beef producers, academia and industry representatives were in attendance at the organization's 47th annual convention. BIF's mission is to help improve the industry by promoting greater acceptance of beef cattle performance evaluation.
For more information about this year's symposium, including additional award winners and coverage of meeting and tours, visit 
www.BIFconference.com
. For more information about BIF, visit 
www.beefimprovement.org
.
Editor's Note: This article was written as a news release by Angus Media staff and may be redistributed without further permission.