News Release
FOR IMMEDIATE RELEASE
June 25, 2015
Writer:
Jena McRell, digital editor, Angus Media; 816-383-5200
For more information contact:
Jane Parish, executive director, Beef Improvement Federation,Mississippi State University; 662-369-4426; www.BIFconference.com; www.beefimprovement.org
For a high-resolution photo of the winner, click here.

Andy Boston Awarded BIF Continuing Service Award
BILOXI, Miss. (June 11, 2015) — The Beef Improvement Federation honored Andy Boston, Purdue University Extension, with the Continuing Service Award during the organization's 47th Annual Convention in Biloxi, Miss., June 9-12.
Continuing Service Award winners have made major contributions to the BIF organization. This includes serving on the board of directors, speaking at BIF conventions, working on BIF guidelines and other behind-the-scenes activities. As BIF is a volunteer organization, it is this contribution of time and passion for the beef cattle industry that keeps BIF moving forward.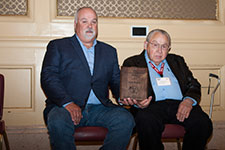 Andy Boston (right) of Purdue University Extension receives the Beef Improvement Federation Continuing Service Award from Steve Munger, retiring BIF president. Boston received the honor during an awards luncheon June 11 at the organization's 47th annual convention in Biloxi, Miss.
Boston is a prime example of what it means to contribute a tremendous amount of service to the BIF organization over a long period of time. He has attended more than 25 BIF conferences for the years, and has served on a number of committees and working groups.
Boston first became introduced to BIF during the early 1970's while pursuing his doctorate in animal breeding at Oklahoma State University. After completing his degree, he taught animal breeding classes and conducted beef cattle crossbreeding research at Louisiana State University. Boston later moved to Canada in the mid 1970s, where he became actively involved with BIF while serving as Chief of the Federal Provincial Canadian Beef Cattle Performance Evaluation Programs. He represented Agriculture Canada and the Canadian beef cattle industry on the BIF Board and spearheaded the country's move to greater utilization of BIF's Guidelines and Conferences based on what BIF was implementing throughout North America.
In the late 1980s, Boston spent time as an agriculture professor at Morehead State University in Morehead, Ky. He taught classes and managed the university's farm during his time on campus.
To return working one-on-one with beef producers, Boston accepted a position with Purdue University Extension and has served in that role for nearly 20 years. During that time, he has become a trusted resource for outreach programs, research analysis and management decisions for cattlemen throughout the state of Indiana and beyond.
Josh White, executive director of producer education for the National Cattlemen's Beef Association, noted, "Many of you have never heard of Dr. Boston before today, but I believe his almost 40 years of very good work serving cattlemen well day after day add up to an extraordinary record of service and an extraordinary life. All of us, especially a younger generation that seems to expect overnight fame, can learn a lesson of the value of consistent service in an industry we love from Dr. Boston."
To recognize his contributions, Boston was presented the BIF Continuing Service Award at a luncheon Thursday, June 11. Also receiving Continuing Service Awards were Joe Cassady, retiring executive director of the Beef Improvement Federation; Lois Schreiner, Kansas State University; and Chris Shivers, American Brahman Breeders Association.
For more information about this year's symposium, including additional award winners and coverage of meeting and tours, visit www.BIFconference.com. For more information about BIF, visit www.beefimprovement.org.

Editor's Note: This article was written as a news release by Angus Media staff and may be redistributed without further permission.