News Release
FOR IMMEDIATE RELEASE
June 25, 2015
Writer:
Shauna Rose Hermel, Angus Journal® editor Angus Media,; 816-383-5200
For more information contact:
Jane Parish, executive director, Beef Improvement Federation,Mississippi State University; 662-369-4426; www.BIFconference.com; www.beefimprovement.org
For a high-resolution photo of the winner, click here.

Joe Cassady Awarded BIF Continuing Service Award
SAINT JOSEPH, Mo. (June 25, 2015) — The Beef Improvement Federation honored Joe Cassady, South Dakota State University, with the Continuing Service Award during the organization's 47th annual convention in Biloxi, Miss., June 9-12.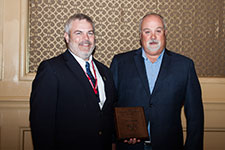 Joe Cassady (left), retiring executive director of the Beef Improvement Federation, receives the Continuing Service Award from Steve Munger, retiring BIF president. Cassady received the honor during an awards luncheon June 11 at the organization's 47th annual convention in Biloxi, Miss.
Continuing Service Award winners have made major contributions to the BIF organization. This includes serving on the board of directors, speaking at BIF conventions, working on BIF guidelines and other behind-the-scenes activities. As BIF is a volunteer organization, it is this contribution of time and passion for the beef cattle industry that keeps BIF moving forward.
Cassady has served as executive director of the organization since 2009. In this role he coordinated the activities of the board to ensure that its directives were properly executed. He was responsible for documenting the activities and finances of the federation and fostering its long-term vision by keeping abreast of the industry, monitoring new technologies and assisting the Board in incorporating those technologies into its overall mission.
Cassady currently serves as head of the Department of Animal Science at South Dakota State University, a position he accepted in 2013. Prior to moving to SDSU he served as professor in the College of Agriculture & Life Sciences at North Carolina State University (NCSU), where his research interests were in quantitative and molecular genetic applications to improve food animal production, including feed efficiency and hair shedding in beef cattle. He has also worked as a research associate in genetics and breeding for the Agricultural Research Service with the U.S. Department of Agriculture at the Meat Animal Research Center in Clay Center, Neb.
Cassady obtained a bachelor's degree in animal science from Iowa State University in 1993 and a master's degree and doctorate in animal science from the University of Nebraska-Lincoln in 1995 and 1999, respectively.
To recognize his contributions, he was presented the BIF Continuing Service Award at a luncheon Thursday, June 11. Also receiving Continuing Service Awards were Andy Boston, Purdue University Extension; Lois Schreiner, Kansas State University; and Chris Shivers, American Brahman Breeders Association.
For more information about this year's symposium, including additional award winners and coverage of meeting and tours, visit www.BIFconference.com. For more information about BIF, visit www.beefimprovement.org.

Editor's Note: This article was written as a news release by Angus Media staff and may be redistributed without further permission.