News Release
FOR IMMEDIATE RELEASE
June 25, 2015
Writer:
Sarah Harris, communications intern, Angus Media; 816-383-5200
For more information contact:
Jane Parish, executive director, Beef Improvement Federation,Mississippi State University; 662-369-4426; www.BIFconference.com; www.beefimprovement.org
For a high-resolution photo of the winner, click here.

Lois Schreiner Awarded BIF Continuing Service Award
SAINT JOSEPH, Mo. (June 25, 2015) — The Beef Improvement Federation honored Lois Schreiner, Kansas State University, with the Continuing Service Award during the organization's 47th Annual Convention in Biloxi, Miss., June 9-12.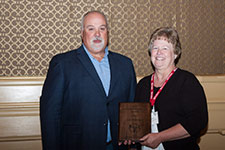 Lois Schreiner (right), Kansas State University, receives the Beef Improvement Federation Continuing Service Award from Steve Munger, retiring BIF president. Schriener received the honor during an awards luncheon June 11 at the organization's 47th annual convention in Biloxi, Miss.
Continuing Service Award winners have made major contributions to the BIF organization. This includes serving on the board of directors, speaking at BIF conventions, working on BIF guidelines and other behind-the-scenes activities. As BIF is a volunteer organization, it is this contribution of time and passion for the beef cattle industry that keeps BIF moving forward.
Schreiner's service and dedication to BIF makes her one of the most deserving individuals there is of this award. Her timeless effort and organization have been critical to the function of BIF and its board.
Since 2002, she has worked to coordinate all the activities for the BIF board, including management of business and details for the federation. During her time volunteering for the organization she has worked with three separate executive directors. 
Born and raised in Frankfort, Kan., Schreiner began working as a receptionist for Kansas State University (K-State) straight out of high school at the age of 17. While working both full and part time for the university, she was able to raise five children with her husband, John. Today she is the administrative specialist for extension programs in the animal science department.
Along with her busy family life, Schreiner has been instrumental in the organization of many departmental programs and events, including Cattlemen's Day, Swine Day, Sheep Day, the Swine Classic and the Stocker Conference. For each of these events she is behind-the-scenes contacting and working with all exhibitors and facilities staff, making certain everything is ready.
To recognize her contributions, Schreiner was presented the BIF Continuing Service Award at a luncheon Thursday, June 11. Also receiving Continuing Service Awards were Andy Boston, Purdue University Extension; Joe Cassady, retiring executive director of the Beef Improvement Federation; and Chris Shivers, American Brahman Breeders Association.
For more information about this year's symposium, including additional award winners and coverage of meeting and tours, visit www.BIFconference.com. For more information about BIF, visit www.beefimprovement.org.

Editor's Note: This article was written as a news release by Angus Media staff and may be redistributed without further permission.