News Release
FOR IMMEDIATE RELEASE
June 25, 2015
Writer:
Sarah Harris, communications intern, Angus Media; 816-383-5200
For more information contact:
Jane Parish, executive director, Beef Improvement Federation,Mississippi State University; 662-369-4426; www.BIFconference.com; www.beefimprovement.org
For a high-resolution photo of the winner, click here.

Paul Genho Honored with BIF Pioneer Award
SAINT JOSEPH, Mo. (June 25, 2015) — The Beef Improvement Federation (BIF) honored Paul Genho with the Pioneer Award during the organization's 47th Annual Convention in Biloxi, Miss., June 9-12. The award recognizes individuals who have made lasting contributions to the improvement of beef cattle, honoring those who have had a major role in acceptance of performance reporting and documentation as the primary means to make genetic change in beef cattle.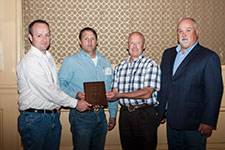 Paul Genho, president of Farmland Reserve Inc., Salt Lake City, Utah, was awarded the Beef Improvement Federation Pioneer Award June 11 at the organization's annual convention in Biloxi, Miss. Receiving the award in his honor were his two sons, John Genho and David Genho. Pictured are (from left) John Genho; David Genho; Mark Enns, BIF Western Region secretary; and Steve Munger retiring BIF president.
Genho received a bachelor's and a master's degree in animal science from Brigham Young University, before going on to obtain a doctorate, specializing in beef cattle reproduction, from the University of Florida. His collegiate involvement did not end after earning his degrees. Genho is a large contributor to university direction and the direction of U.S. agricultural programs. He has served on 11 different search and review committees at three universities, as well as various government agencies.
Throughout his career, Genho has served on numerous committees and advisory boards for multiple organizations, including Neogen, the Texas Beef Council, the Florida Beef Council, the National Cattleman's Beef Association (NCBA) and the Cattleman's Beef Board.
His input while serving on the advisory board for the National Beef Cattle Evaluation Consortium (NBCEC) from 2001 through 2012 encouraged cooperation between many competitive universities. This collaboration helped to facilitate better beef research programs related to genetics and extension. Genho's leadership set a new direction for the organization, which even today continues to follow new approaches in genetic evaluation, selection, genomic use and new trait development.
Throughout his career, Genho has received numerous awards, including the Commissioner's Agricultural-Environmental Leadership Award presented by the Florida Commissioner of Agriculture, and the Distinguished Service Award from the Florida Farm Bureau. In 2003 BEEF magazine named Genho among its top 40 leaders who have shaped the beef industry, and in 2013 he was honored as one of BEEF magazine's 50 top beef industry leaders.
His career has taken him through various leadership positions, including regional manager of Deseret Cattle and Citrus, general manager of livestock and ranch operations at King Ranch, and president of farm and land reserve at Ag Reserves Inc. Currently, Genho is giving back to the next generation by serving as a visiting professor at the University of Florida.
Two of Genho's sons, John and David, were present to accept the BIF Pioneer Award on their father's behalf at a luncheon Thursday, June 11, in Biloxi, Miss.
For more information about this year's symposium, including additional award winners and coverage of meeting and tours, visit www.BIFconference.com. For more information about BIF, visit www.beefimprovement.org.

Editor's Note: This article was written as a news release by Angus Media staff and may be redistributed without further permission.