News Release
FOR IMMEDIATE RELEASE
June 25, 2015
Writer:
Sarah Harris, communications intern, Angus Media; 816-383-5200
For more information contact:
Jane Parish, executive director, Beef Improvement Federation,Mississippi State University; 662-369-4426; www.BIFconference.com; www.beefimprovement.org
For a high-resolution photo of the winner, click here.

Tom Woodward Honored with BIF Pioneer Award
SAINT JOSEPH, Mo. (June 25, 2015) — The Beef Improvement Federation (BIF) honored Tom Woodward with the Pioneer Award during the organization's 47th annual convention in Biloxi, Miss., June 9-12. The award recognizes individuals who have made lasting contributions to the improvement of beef cattle, honoring those who have played a major role in acceptance of performance reporting and documentation as the primary means to make genetic change in beef cattle.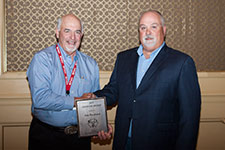 Tom Woodward (left) of Broseco Ranch, Decatur, Texas, receives the Beef Improvement Federation Pioneer Award from Steve Munger, retiring BIF president. Woodward was honored June 11 at the organization's 47th annual convention in Biloxi, Miss.
Woodward is a graduate of Texas A&M University with degrees in livestock production and a doctorate in reproduction. Following college, he served the Texas Agriculture Extension Service for 15 years in various positions, including assistant county agent, livestock specialist and district agriculture agent.
Woodward managed the Ranch and Farm Management Department of Texas American Bank for eight years. Currently, he is general manager of Broseco Ranch, where he has served for 26 years, and vice president of Broventure Co. Inc.
Throughout his career, he has been a major proponent of collecting data and using it to make genetic change. He has been a leader in adoption of BIF-approved selection tools and employing the latest technology. He began retaining ownership of his cattle in 1989.
Woodward has led a life of service and leadership to the beef industry. He has served in a number of organizations, including the National Cattlemen's Beef Association (NCBA), and on various committees. He served as director and chairman of the board of Ranchers Renaissance, director and vice president of the Red Angus Association of America, director of the Texas and Southwestern Cattle Raisers Association, director and honorary vice president of the Southwestern Livestock Show and Rodeo, and as nonresident fellow for the Noble Foundation.
At Broseco Ranch Woodward has been recognized as Commercial Producer of the Year by the Texas Simmental Association and Breeder of the Year by the Red Angus Association of America. He was recognized in 2007 as BIF Commercial Producer of the Year.
Woodward was presented the BIF Pioneer Award at a luncheon Thursday, June 11, in Biloxi, Miss.
For more information about this year's symposium, including additional award winners and coverage of meeting and tours, visit www.BIFconference.com. For more information about BIF, visit www.beefimprovement.org.

Editor's Note: This article was written as a news release by Angus Media staff and may be redistributed without further permission.