News Release
FOR IMMEDIATE RELEASE
June 25, 2015
Writer:
Nicole Lane, Angus Journal® intern; 816-383-5200
For more information contact:
Jane Parish, executive director, Beef Improvement Federation,Mississippi State University; 662-369-4426; www.BIFconference.com; www.beefimprovement.org
PHOTO: Available at www.bifconference.com/bif2015/awards.html.


McCurry Angus Ranch Named
BIF Seedstock Producer of the Year
SAINT JOSEPH, Mo. (June 25, 2015) — The Beef Improvement Federation (BIF) presented McCurry Angus Ranch of Burrton, Kan., the BIF Seedstock Producer of the Year Award June 10 during the group's annual convention in Biloxi, Miss. This national award is presented annually to a producer for their dedication to improving the beef industry at the seedstock level.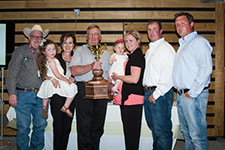 McCurry Angus Ranch, Burrton, Kan., was named the 2015 Beef Improvement Federation Seedstock Producer of the year during an awards ceremony June 10 in Biloxi, Miss. Pictured are (from left) Wes Ishmael, BEEF magazine, award sponsor, with recipients Aubree McCurry, Mary McCurry, Andy McCurry, Mollie McCurry, Melody McCurry and Shane Werk.
McCurry Angus Ranch is owned by Andy and Mary McCurry and John and Melody McCurry. In 2004, John returned back to the operation after graduating from college and expansion began. Currently, John works as the manager.
The goals of their Angus seedstock business model focus on providing predictable genetics that are economically important to commercial producers; improving efficiency and carcass quality; and providing a solid foundation for future generations. The genetic program at the ranch seeks to propagate high-accuracy sires and cow families that combine the best of calving ease and top performance with maternal efficiency and a high-quality consumer product.
The McCurrys began their south-central Kansas ranch in the late 1970s with, "no land, no facilities and no equipment" to go with a foundation of seven registered Angus females. Today the operation has expanded to 400 head of registered Angus cows and 250 spring-calving commercial cows. They maintain 150 commercial Angus cows near Buffalo, S.D., for their embryo transfer (ET) program. The family markets around 175 bulls a year through a spring sale and by private treaty. The home ranch now consists of 2,000 acres, and they send cattle to the Flint Hills to graze on satellite operations in Chase and Greenwood counties.
The experience of building a business from the ground up provided the McCurrys knowledge and insight into the type of business structure required for profitability and sustainability.
More than 400 beef producers, academia and industry representatives were in attendance at the organization's 47th annual convention. BIF's mission is to help improve the industry by promoting greater acceptance of beef cattle performance evaluation.
For more information about this year's symposium, including additional award winners and coverage of meeting and tours, visit www.BIFconference.com. For more information about BIF, visit www.beefimprovement.org.
Editor's Note: This article was written as a news release by Angus Media staff and may be redistributed without further permission.