Starting from Scratch
Kevin and Lydia Yon provide tips for building an operation from the ground up.
by Mayzie Purviance, Angus Media intern
Kevin and Lydia Yon of Ridge Spring, South Carolina, didn't have much when they started their journey in the cattle business. After many years of hard work and perseverance, their story of "not much" turned into the classic American dream.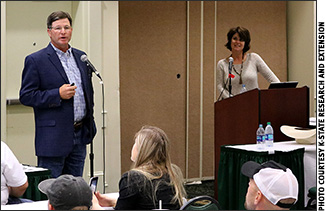 Kevin and Lydia Yon of Ridge Spring, South Carolina
Both majoring in animal science at Clemson University, the Yons met at a Block & Bridle cookout. They hit it off and soon became the perfect team, accepting a position to manage the Angus herd at Congaree Farms near Columbia, S.C.
From 1989 to 1996, life was good for the Yon family. They had three kids, lived in a big house provided by their employer, were building a strong cow herd, produced their first bull sale in 1990, and were extremely involved in the community.
Fast-forward to 1996: 200 cows later, with three kids under the age of 5 and seven years invested in building a set of genetics, their lives took a turn when the owner of Congaree farms said he wanted out of the cattle business in six months, at which point they would no longer be needed.
The family loaded up and moved to Ridge Spring, S.C., in hopes of finding their niche. They purchased 100 acres from the Watson family (former customers), 100 head of cows from the Congaree herd, and a small farmhouse. They had no operating cash, no equipment, and no clue where this new venture would take them.
After many years of back-breaking labor, the Yons have achieved their dream. During the course of 16 years, the Yon family has "taken in" six different family-owned operations around Ridge Spring, purchased a pecan farm, hosted numerous sales, and have successfully expanded their farm and family.
The Yons shared many helpful tips with young producers about trying new things, financial planning, and having a continuous vision of what could be. One that seemed to stick out the most was, "remember, people are always watching."
The people of the Ridge Spring community watched the Yons from the moment they drove into town and realized that they were a quality family. They saw the way the Yon family took care of their livestock and their land. They watched as the Yons became a success in the agricultural industry and as they went out of their way to improve the community. The residents of Ridge Spring took notice of their effort and the love they put into their work every day. That close scrutiny laid the foundation for opportunities to help get to where they are today.
"If they (members of the community) see somebody that has come in and is trying to improve the whole community, that is maybe a 4-H volunteer, little league volunteer, volunteer fireman, PTA, you name it," Kevin said, "more often than not they're going to want to help you because you're going to help their family and their community."
Editor's Note: This summary was written under contract or by staff of Angus Media. Through an agreement with the Beef Improvement Federation, we are encouraging reprinting of the articles to those who will adhere to the reprint guidelines available on this site. Please review those guidelines or contact Shauna Rose Hermel, editor, at 816-383-5270. PowerPoints are posted with permission of the presenter and may not be reproduced in whole or in part without the express permission of the presenter.

Angus Media's coverage of the event is made possible through collaboration with BIF. For questions about this site, or to notify us of broken links, click here. Look for additional coverage in the Angus Journal, the Angus Beef Bulletin, the Angus Journal Daily, the Angus Beef Bulletin EXTRA and Angus TV.