Investing in the Future: Heifer Development for Longevity
Justin Rhinehart discusses the development and selection of replacement heifers.
by Mayzie Purviance, Angus Media intern
Although the principles for sourcing replacements hasn't changed for many years, new technologies, improvements in genetics, and the ever-changing market have affected the way producers select and develop replacement heifers. Justin Rhinehart, associate professor and extension beef cattle specialist within the Department of Animal Science at the University of Tennessee, discussed the importance of selecting and developing replacement heifers to improve longevity.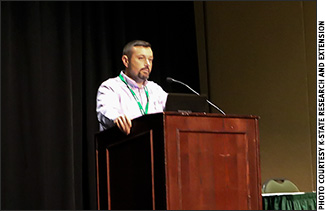 Justin Rhinehart, associate professor and extension beef cattle specialist within the Department of Animal Science at the University of Tennessee.
Rhinehart focused on heifer development and longevity during the second general session of the 2017 Beef Improvement Federation (BIF) Research Symposium and Convention hosted May 31-June 3 in Athens, Ga.
Rhinehart explained that there are three basics options for selecting replacement heifers:
retaining heifers from each calf crop and breeding in house;
taking an entire calf crop to market and purchasing bred or open heifers; and
retaining heifers from a calf crop and having them custom-developed by an outside individual.
Producers must consider many factors when determining which option will be most effective. Among those factors are time availability, financial considerations, availability of resources, the amount of genetic improvement desired, and convenience.
"Heifer development" for replacement heifers refers to the time from weaning to pregnancy after the first breeding season. Rhinehart gave heifer development tips to help ensure longevity, including:
The heifer must reach puberty prior to the first breeding season.
The heifer must be bred early in the first and second breeding seasons.
Calving difficulty should be minimized.
Genetics should be improved.
Rhinehart discussed nutritional, reproductive, health and postbreeding heifer management in depth. For details, refer to his proceedings paper available at www.bifconference.com/bif2017/proceedings/06-rhinehart.pdf.
"New technologies and improved genetics have enabled different approaches to replacement heifer development," Rhinehart concluded. "Staying current with these new concepts will allow progressive cattlemen to stay true to those basic principles more efficiently."
Editor's Note: This summary was written under contract or by staff of Angus Media. Through an agreement with the Beef Improvement Federation, we are encouraging reprinting of the articles to those who will adhere to the reprint guidelines available on this site. Please review those guidelines or contact Shauna Rose Hermel, editor, at 816-383-5270. PowerPoints are posted with permission of the presenter and may not be reproduced in whole or in part without the express permission of the presenter.

Angus Media's coverage of the event is made possible through collaboration with BIF. For questions about this site, or to notify us of broken links, click here. Look for additional coverage in the Angus Journal, the Angus Beef Bulletin, the Angus Journal Daily, the Angus Beef Bulletin EXTRA and Angus TV.