Local Genetic Adaptation Project
MU beef genetics specialist seeks GE-EPD values specific to region.
by Troy Smith, field editor
"We know that antagonisms between genetics and the environment [exist]. Now, we're going hunting for them," said University of Missouri geneticist Jared Decker in a presentation delivered during the Beef Improvement Federation (BIF) Research Symposium and Convention May 31-June 3 in Athens, Ga.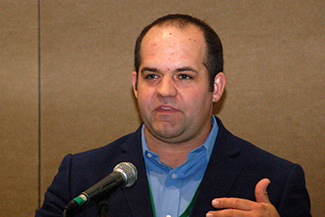 University of Missouri geneticist Jared Decker
Decker addressed the Advancements in Producer Applications breakout session, explaining a research project seeking to develop tools for selecting animals genetically programmed for adaptation to certain production environments.
"We don't have many selection tools for matching animals to the environment – identifying animals best-suited to heat or cold, to high altitude, or to other factors like fescue toxicity," said Decker. "We're looking for ways to derive genetic predictions tailored to specific production environments."
Ultimately, Decker said, he would like to see developed genomic-enhanced expected progeny difference (GE-EPD) values and selection indices that would predict a given animal's adaptability to one of nine regions within the United States. He said he expects animals would rank differently in each region for their predicted ability to perform and reproduce.
At the very least, he said, tools are needed to predict adaptability to three most-challenging regions — the Gulf Coast, the Fescue Belt and the high-elevation area of the West.
Decker also noted the launch of a cattle hair-shedding study, the goal of which is to create a genomic prediction — a GE-EPD — for the ability to shed winter hair in warm weather.
Editor's Note: This summary was written under contract or by staff of Angus Media. Through an agreement with the Beef Improvement Federation, we are encouraging reprinting of the articles to those who will adhere to the reprint guidelines available on this site. Please review those guidelines or contact Shauna Rose Hermel, editor, at 816-383-5270. PowerPoints are posted with permission of the presenter and may not be reproduced in whole or in part without the express permission of the presenter.

Angus Media's coverage of the event is made possible through collaboration with BIF. For questions about this site, or to notify us of broken links, click here. Look for additional coverage in the Angus Journal, the Angus Beef Bulletin, the Angus Journal Daily, the Angus Beef Bulletin EXTRA and Angus TV.