Implications of Multi-Breed Evaluations and Across-Breed EPDs for Commercial Cattlemen
by Troy Smith, field editor, Angus Media
While many commercial cow-calf producers utilize expected progeny difference (EPD) values for comparing the genetic merit of bulls, the breed specificity of EPDs prohibits direct comparison of bulls from different breeds. This represents a challenge to producers with breeding programs involving more than one breed of cattle or hybrid seedstock. Under way, however, is work related to multi-breed cattle evaluation and across-breed EPDs to aid in genetic selection.
Progress in this work was the topic of discussion by four speakers addressing the Advancements in Producer Applications breakout session during the 2017 Beef Improvement Federation (BIF) annual convention. Hosted in Athens by the University of Georgia, the convention was May 31-June 3.
Bruce Golden of Theta Solutions talked about the use of that company's BOLT software for a multi-breed national cattle evaluation conducted by International Genetic Solutions (IGS), a collaboration of 12 North American breed associations representing a combined data base on nearly 17 million animals. Golden said BOLT, which stands for Biometric Open Language Tools, offers the capability to directly incorporate genomic data into EPD calculation.
"The goal is to use genomic information to improve accuracy and produce EPDs (for comparison between breeds) without post-analysis adjustment," explained Golden.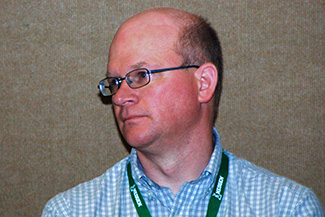 U.S. Meat Animal Research Center (MARC) geneticist Larry Kuehn
U.S. Meat Animal Research Center (MARC) geneticist Larry Kuehn said MARC data is used to calculate across-breed adjustment factors for growth and carcass trait EPDs of 18 breeds. Producers can use these additive adjustment factors to adjust EPD to a common Angus base.
"The adjustment factors themselves do not represent breed differences," Kuehn emphasized, "but their use allows comparison of genetic trends for different breeds."
University of Nebraska geneticist Matt Spangler warned that the term "multi-breed" does not mean EPD values generated by IGS will be directly comparable across all breeds. According to Spangler, direct comparison requires pedigree ties.
University of Nebraska geneticist Matt Spangler
"Think of SimAngus, LimFlex, Balancer and Red Angus as examples," said Spangler, noting that calculation of EPDs for direct comparison must also account for breed differences and heterosis effects. "Moving forward, the MARC adjustment factors are still needed."
Among the breed associations participating in IGS is the North American Limousin Foundation (NALF). Joe Epperly, NALF assistant executive director, said various "political hurdles" stand in the way of a fully combined national cattle evaluation involving all breeds. However, he called the IGS effort an important step toward improved genetic selection tools, which will require the help of participating breed associations to assure that producers use the tools appropriately.
Editor's Note: This summary was written under contract or by staff of Angus Media. Through an agreement with the Beef Improvement Federation, we are encouraging reprinting of the articles to those who will adhere to the reprint guidelines available on this site. Please review those guidelines or contact Shauna Rose Hermel, editor, at 816-383-5270. PowerPoints are posted with permission of the presenter and may not be reproduced in whole or in part without the express permission of the presenter.

Angus Media's coverage of the event is made possible through collaboration with BIF. For questions about this site, or to notify us of broken links, click here. Look for additional coverage in the Angus Journal, the Angus Beef Bulletin, the Angus Journal Daily, the Angus Beef Bulletin EXTRA and Angus TV.