Know Your Consumer
Millennial agvocate talks about the importance of consumer connection.
by Shelby Mettlen, assistant editor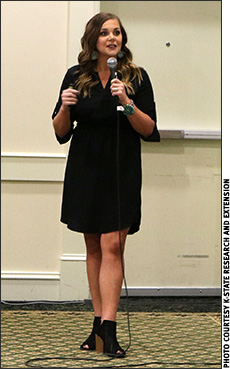 Fifth-generation rancher Amanda Radke
Fifth-generation rancher Amanda Radke had a strong message for young farmers and ranchers at the 2017 Young Producers' Symposium hosted May 31 prior to and in conjunction with the Beef Improvement Federation (BIF) Symposium in Athens, Ga. The blogger, agricultural journalist and millennial mom from South Dakota urged conference attendees to know their consumers.
"There's so much to think about as we begin our careers in production agriculture, the one that's easy to forget about is the person you don't know," she said, referring to urban consumers who are generations removed from the farm or ranch.
She reminded her audience that person has a vote that can determine how you do your business in the future.
Tell your story
Radke said the word "sustainability" has been stolen from agriculture, and explained that the word really doesn't represent what farmers strive for.
Farmers and ranchers do better than sustain what they have, she said. They take the land and resources we have and make them better.
"We not only need to take that word — sustainability — back," Radke said, adding that those in agriculture need to take control of the conversation and talk about not only how they use those resources, but how they improve them.
Telling your story isn't always a top priority for farming and ranching professionals, but it's important, Radke said. She urged young producers to use social media to help start the conversation, but to also look for opportunities in everyday interactions.
She suggested sharing visual graphics on Facebook and Twitter to give a snapshot of straightforward information.
Radke pointed out the importance of being prepared to have conversations outside your comfort zone. Listen to what consumers have to say first, then inform them, she advised. Don't get defensive or make consumers feel inferior.
Find common ground with your consumer, Radke said. Talk about family values, how you treat your animals, how you care for the environment and that food safety, quality and nutrition are also important to you and your family.
Be clever and creative, she suggested. Entertain questions first, and inform second. Be relatable, make your story accessible and visible, and use information that is transferable and compelling.
"We're gaining ground," she said, but it's important to continue to make an effort to avoid losing that footing.
Editor's Note: This summary was written under contract or by staff of Angus Media. Through an agreement with the Beef Improvement Federation, we are encouraging reprinting of the articles to those who will adhere to the reprint guidelines available on this site. Please review those guidelines or contact Shauna Rose Hermel, editor, at 816-383-5270. PowerPoints are posted with permission of the presenter and may not be reproduced in whole or in part without the express permission of the presenter.

Angus Media's coverage of the event is made possible through collaboration with BIF. For questions about this site, or to notify us of broken links, click here. Look for additional coverage in the Angus Journal, the Angus Beef Bulletin, the Angus Journal Daily, the Angus Beef Bulletin EXTRA and Angus TV.