Understanding Pulmonary Hypertension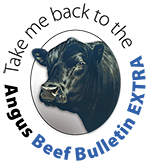 Expert discusses brisket disease and late-term feedlot death.
by Troy Smith, field editor
LOVELAND, Colo., June 2018 — If you want to learn a thing or two about brisket disease, Veterinarian Tim Holt is a go-to guy. The Colorado State University associate professor and Gunnison-area practitioner offered a crash course on brisket disease during the 2018 Beef Improvement Federation Convention June 20-23 in Loveland, Colo. Holt shared from research and his own field experience with the condition, which is correctly named bovine pulmonary hypertension (BPH).
Sometimes called high-altitude disease, BPH most often affects calves or young adult cattle moved to high-elevation pastures, occurring most often among animals grazing above 5,000 feet. BPH occurs when low oxygen levels cause the pulmonary arteries to constrict, increasing resistance to blood flow and causing blood pressure in the pulmonary arteries to rise. Eventually, the heart cannot pump enough blood through the pulmonary arteries into the lungs to keep up with the volume entering the heart. This leads to dilation of the right chambers of the heart and congestive heart failure.
Holt explained how, in advanced stages, the failing right side of the heart causes blood to back up in the veins. As pressure increases, fluid is forced out, through the permeable walls of blood vessels and into surrounding tissues. Tissue edema is often most noticeable in the brisket area.
Holt described the process for conducting pulmonary arterial pressure (PAP) tests on cattle. Since 1980, he has performed more than 350,000 such tests to help identify cattle less susceptible to BPH. Mountain-state producers commonly use PAP test results to screen bull and replacement heifer candidates prior to adding them to breeding herds.
BPH is heritable, and Colorado State University has conducted research to develop and perfect a genetic selection tool — an expected progeny difference (EPD) value — based on PAP.
In recent years BPH has been diagnosed, with increasing frequency, among feedlot cattle nearing the end of their finishing period. Cattle losses to BPH have been documented in feedyards located at elevations lower than 4,000 feet. Some cases have occurred below 3,000 feet. Is it the same thing as brisket disease in the mountains?
"Yes and no," said Holt. "The same thing is occurring in the animals' bodies, with similar symptoms and typically the same end result, but the etiology is different.
Holt said the evidence suggests that high growth rate and heavy finished weights can lead to BPH among genetically susceptible feedyard cattle, even at lower elevations.
Editor's Note: The articles used within this site represent a mixture of copyrights. If you would like to reprint or repost an article, you must first request permission of Angus Media by contacting the editor at 816-383-5200; 3201 Frederick Ave., Saint Joseph, MO 64506. Angus Media claims copyright to this web site as presented. We welcome educational venues and cattlemen to link to this site as a service to their audience.