BIF Ambassador Award Winner
FOR IMMEDIATE RELEASE
Contact: Angie Stump Denton, Beef Improvement Federation Communication Coordinator, angiedenton@ksu.edu or 785-562-6197
June 25, 2018
Crow Presented BIF Ambassador Award
LOVELAND, Colorado – The Beef Improvement Federation (BIF) presented Pete Crow, Greenwood Village, Colorado, the BIF Ambassador Award June 21 during the group's annual meeting and symposium in Loveland, Colorado. This award is given annually by BIF to a member of the media for his or her efforts in spreading the news of BIF and its principles to a larger audience.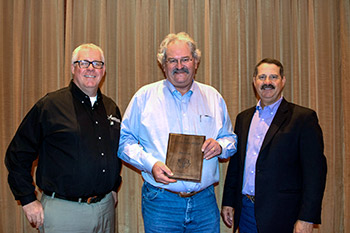 Pete Crow, Greenwood Village, Colorado, was presented the Beef Improvement Federation Ambassador Award June 21 at the organization's 50th annual convention in Loveland, Colorado. Pictured (l to r) are: Lee Leachman, 2018-2019 BIF president; Crow; and Donnell Brown, 2017-2018 BIF president. (Click photo above for a larger image)
Pete is the third generation of publishers to take the reins of the family business, Crow Publications, which was founded by his grandfather, Nelson Crow, in 1922. Their longest running publication, the Western Livestock Journal (WLJ), boasts 96 years.
Published weekly, the Crow family's goal for WLJ is to provide ranchers the tools they need to do their business better with news that is concise, timely and relevant. WLJ offers breaking livestock market reports, the latest research on animal health, innovative management techniques and strategies, new findings on forage and range management, and seedstock market reports.
Pete has followed in his family's tradition of making the WLJ the western rancher's source for new ideas. Under his leadership, the paper has included more coverage of emerging technologies in breeding and genetics, special issues focused on artificial insemination and new equipment being developed, and semi-annual magazines dedicated to the unique concerns of both the purebred and commercial elements of the cattle industry.
"We're a business publication; we're here to help people do business better," Pete says.
He was recognized with the National Cattlemen's Beef Association 2011 Excellence in Agricultural Journalism Award. Pete and his father, Dick, were awarded the Livestock Publications Council's Hall of Fame Award in 2015.
More than 600 beef producers, academia and industry representatives were in attendance at the organization's 50th annual convention. BIF's mission is to help improve the industry by promoting greater acceptance of beef cattle performance evaluation.
For more information about this year's symposium, including additional award winners and coverage of meeting and tours, visit BIFconference.com. For more information about BIF, visit Beefimprovement.org.
The Beef Improvement Federation (BIF) is an organization dedicated to coordinating all segments of the beef industry — from researchers and producers to retailers — in an effort to improve the efficiency, profitability and sustainability of beef production. The organization was initiated almost 70 years ago to encourage the use of objective measurements to evaluate beef cattle. Continuing the tradition, BIF is now the clearinghouse for developing standardized programs and methodologies for recording of performance data for all traits, from birth weights to carcass traits. Its three-leaf-clover logo symbolizes the link between industry, extension and research.