BIF Pioneer Award
FOR IMMEDIATE RELEASE
Contact: Angie Stump Denton, Beef Improvement Federation Communication Coordinator, angiedenton@ksu.edu or 785-562-6197
June 25, 2018
Holt Presented BIF Pioneer Award
LOVELAND, Colorado – The Beef Improvement Federation (BIF) presented Dr. Tim Holt, Fort Collins, Colorado, the BIF Pioneer Award June 21 during the group's annual meeting and symposium in Loveland, Colorado. The award recognizes individuals who have made lasting contributions to the improvement of beef cattle, honoring those who have had a major role in acceptance of performance reporting and documentation as the primary means to make genetic change in beef cattle.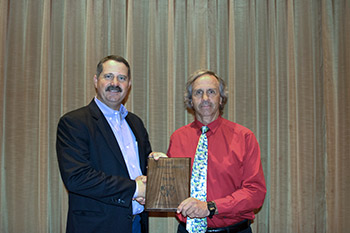 Tim Holt (right), Fort Collins, Colorado, receives the Beef Improvement Federation Pioneer Award from Donnell Brown (right), 2017-2018 BIF president. Holt was honored June 21 at the organization's 50th annual convention in Loveland, Colorado.
One of the challenges for beef producers in the western United States is environmental adaptability, whether it be for heat, scarcity of forage or other challenges. For those raising cattle above 5,000 feet, one of the greatest challenges is resistance to High Mountain Disease (HMD) commonly called brisket disease. 
Dr. Holt played a pivotal role in the development and delivery of a veterinary test that predicts susceptibility to pulmonary hypertension — the underlying cause of HMD. Dr. Holt received his DVM from Colorado State University in 1988. He performed his first PAP test in early 1980, and has since collected more than 350,000 PAP observations. 
Much of his data has served as the basis for heritability estimates at a multitude of elevations and more recently for the development of PAP EPD and for identification of markers reducing susceptibility to HMD. Travelling more than 75,000 miles a year offering PAP measurement services from New Mexico to Montana, he is the key ranch expert for breeders and breeding programs across the region, providing advice, expertise, and approaches to reducing brisket disease and making genetic progress in high-elevation herds.  
Dr. Holt also organizes a biennial PAP Summit training for post-graduate veterinarians. These continuing education events serve as the mechanism to train field veterinarians and to keep them informed of the latest research results in this area.
He is currently contributing to the development of PAP measurement guidelines for the BIF, has developed a heart-scoring system to determine levels of pulmonary hypertension and heart tissue remodeling at harvest. 
"Dr. Holt's PAP efforts have taken him not only all over the western U.S., but to Ethiopia, Peru, and India," says Mark Enns, BIF board member and Colorado State University professor. "His energy, enthusiasm and passion for helping high-altitude cattle producers is infectious as anyone who has worked with him will attest. In his role as associate professor in clinical sciences, he is training the next generation of veterinarians in appropriate measurement technique of PAP and generating enthusiasm for livestock production in the Rocky Mountains."
More than 600 beef producers, academia and industry representatives were in attendance at the organization's 50th annual convention. BIF's mission is to help improve the industry by promoting greater acceptance of beef cattle performance evaluation.
For more information about this year's symposium, including additional award winners and coverage of the meeting and tours, visit BIFconference.com. For more information about BIF, visit Beefimprovement.org.
The Beef Improvement Federation (BIF) is an organization dedicated to coordinating all segments of the beef industry — from researchers and producers to retailers — in an effort to improve the efficiency, profitability and sustainability of beef production. The organization was initiated almost 70 years ago to encourage the use of objective measurements to evaluate beef cattle. Continuing the tradition, BIF is now the clearinghouse for developing standardized programs and methodologies for recording of performance data for all traits, from birth weights to carcass traits. Its three-leaf-clover logo symbolizes the link between industry, extension and research.