BIF Pioneer Award
FOR IMMEDIATE RELEASE
Contact: Angie Stump Denton, Beef Improvement Federation Communication Coordinator, angiedenton@ksu.edu or 785-562-6197
June 25, 2018
Thallman Presented BIF Pioneer Award
LOVELAND, Colorado – The Beef Improvement Federation (BIF) presented Dr. R. Mark Thallman, Blue Hill, Neb., the BIF Pioneer Award June 21 during the group's annual meeting and symposium in Loveland, Colorado. The award recognizes individuals who have made lasting contributions to the improvement of beef cattle, honoring those who have had a major role in acceptance of performance reporting and documentation as the primary means to make genetic change in beef cattle.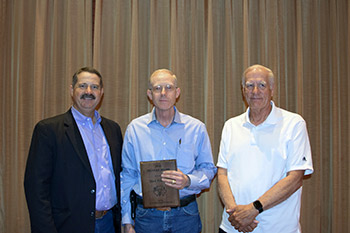 Mark Thallman (center), Blue Hill, Nebraska, receives the Beef Improvement Federation Pioneer Award from Donnell Brown (left), 2017-2018 BIF president; and John Pollak, Cornell University emeritus professor. Thallman was honored June 21 at the organization's 50th annual convention in Loveland, Colorado. (Click photo above for a larger image)
Mark is recognized internationally as a leading scientist in the areas of beef cattle breeding and statistical genetics. His career is devoted to the application of technology to accelerate the genetic improvement of beef cattle. He has co-authored 49 peer-reviewed articles; one peer-reviewed book chapter; 40 conference proceedings; and 12 technical reports, manuals and theses. He is the first author of 29 of these 101 publications, has given 49 invited presentations and is frequently consulted by the beef industry on a variety of topics.
Thallman co-leads the Germplasm Evaluation Program at the U.S. Meat Animal Research Center (USMARC) in Clay Center, Neb. — the largest meat animal research center in the world. The germplasm program is recognized as the most comprehensive beef breed evaluation ever conducted, influencing the beef industry in the United States and worldwide.
Thallman earned his bachelor's degree in animal science (1981), master's in animal breeding (1988), and a doctorate in genetics (1995), all from Texas A&M University. After working for nearly a decade for major beef cattle seedstock producers, Mark joined USMARC as a research associate in October 1996. He went on to become a permanent staff member in June 1998.
"Mark is widely recognized for his innovative fundamental and applied approaches to cattle improvement and for a strong desire to see them adopted by the beef industry," says Darrh Bullock, BIF board member and University of Kentucky extension professor.
Genetic evaluation has been a common theme throughout Thallman's career. He has served as the USDA-ARS representative to the BIF board of directors since 2006 and has participated in most BIF conventions since 1983. He served on the Carcass and Live Animal Evaluation subcommittee to write guidelines for ultrasound technician certification in 1990 and the Emerging Technologies subcommittee of the BIF to write guidelines for use of DNA testing in beef cattle improvement from 2004 to 2007. He also served on the ad hoc committee in 2007-2008 to revise the BIF Guidelines, which is the most highly respected source that breed associations and other organizations rely on when setting policy related to genetic improvement. He also currently serves as the chairman of the BIF Genomic and Genetic Prediction Committee. He received the BIF Continuing Service Award in 2009.
"The ability to develop innovative solutions to challenging problems is one of his greatest attributes," Bullock says. "Thallman has influenced the nature of DNA tests offered commercially, the ways in which the results of these tests are reported and the ways and extent to which producers utilize these tests. He identified selective reporting of DNA test results as a problem and proposed a solution that has been implemented by major DNA testing companies."
More than 600 beef producers, academia and industry representatives were in attendance at the organization's 50th annual convention. BIF's mission is to help improve the industry by promoting greater acceptance of beef cattle performance evaluation.
For more information about this year's symposium, including additional award winners and coverage of the meeting and tours, visit BIFconference.com. For more information about BIF, visit Beefimprovement.org.
The Beef Improvement Federation (BIF) is an organization dedicated to coordinating all segments of the beef industry — from researchers and producers to retailers — in an effort to improve the efficiency, profitability and sustainability of beef production. The organization was initiated almost 70 years ago to encourage the use of objective measurements to evaluate beef cattle. Continuing the tradition, BIF is now the clearinghouse for developing standardized programs and methodologies for recording of performance data for all traits, from birth weights to carcass traits. Its three-leaf-clover logo symbolizes the link between industry, extension and research.