Risk Management for Cow-Calf Operators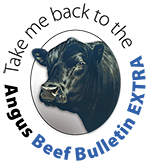 CattleFax analyst shares tips for managing risk in cow-calf herds.
by Troy Smith, field editor
LOVELAND, Colo., June 22, 2018 — According to CattleFax market analyst Troy Applehans, there are a multitude of ways to manage risk, but few cow-calf producers use them. Applehans offered food for thought to cow-calf operators attending the 2018 Beef Improvement Federation (BIF) Convention hosted June 20-23 in Loveland, Colo. He encouraged them to better manage risk by managing fixed costs, giving more thought to marketing, having a plan and being disciplined about carrying it out.
"The most basic thing, though, is knowing the breakeven price of your product," stated Applehans, urging cattlemen to calculate their cost of production. "Knowing cow cost is imperative."
Managing inventory is another important factor, said Applehans. He cautioned cow-calf producers that overpaying for replacement females can be dangerous. When adding females to the herd, producers should think about what calf prices are likely to do during the next seven years and the time it might take for a replacement female to pay for herself and start making money.
Applehans emphasized how recognizing and responding to the seasonality of cattle markets should be part of managing risk. He noted how roughly 80 percent of beef calves in the U.S. are born in the spring and weaned in the fall. He noted that prices for 550-pound calves typically hit a seasonal low in October and November, because so many calves are sold during that time.
"Is that the best time for you to market calves — when prices are lowest? Or could you deliver calves then, after pricing them on a higher summer market?" asked Applehans. "You could take advantage of seasonal highs by marketing calves on a contract or through a video sale."
Similarly, producers should look at the seasonality of the cull cow market, which usually ebbs during late fall and winter, because that's when a majority of cull cows go to town. Applehans suggested that producers weigh the cost and potential benefit of keeping culls longer, adding weight and marketing them when prices turn upward.
Applehans said indicators, including heifer feedlot placement numbers, suggest that while cow herd expansion has not stopped, it is winding down. Total cow numbers may increase further, albeit more slowly, through 2020. U.S. beef production is expected to be up for 2018, but domestic and global demand appears favorable for beef and cattle prices.
Editor's Note: The articles used within this site represent a mixture of copyrights. If you would like to reprint or repost an article, you must first request permission of Angus Media by contacting the editor at 816-383-5200; 3201 Frederick Ave., Saint Joseph, MO 64506. Angus Media claims copyright to this web site as presented. We welcome educational venues and cattlemen to link to this site as a service to their audience.