DNA-Based Calf Registration: Challenges and Opportunities
An inside look at the new registration programs taking Ireland by storm.
by Megan Silveira, editorial intern
LOVELAND, Colo., June 21, 1018 — Ireland has recently developed a new way to ease the stresses and worries of ranchers during calving season, even simplifying the process of registering calves. Andrew Cromie of the Irish Cattle Breeding Federation (ICBF) explained how DNA-based registration is quickly becoming "the norm" during his presentation during the Emerging Technologies breakout session at the Beef Improvement Federation Research Symposium and Convention in Loveland, Colo.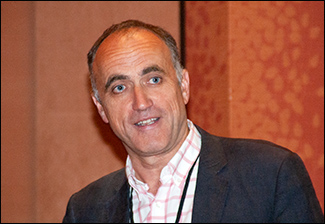 Andrew Cromie of the Irish Cattle Breeding Federation.
Established in 2000, the ICBF created a database Cromie said is now "a cornerstone of the beef industry." By joining together artificial insemination (AI) companies, milk recordings and herd books, ICBF created a database enabling ranchers to use DNA-based registration.
Cromie said with the tissue sample submission from a calf, ranchers only need to wait 14 days before the database predicts all relevant information on the animal, including its sire, dam and breed.
"All of this allows us to be in the position to run large-scale programs," Cromie said. "This program has less paper and more profit."
Cromie said ICBF's goal is to generate genetic gain for farmers, a goal they have been steadily moving closer to. Cromie admitted there are some challenges with DNA-based registration, but it offers great opportunities for ranchers.
"Historically, we kept pedigrees to make sure we didn't have errors," Cromie explained. "The reality is there's a lot of data being kept and mistakes being made."
Cromie said DNA-based registration is "shifting the breeding paradigm" by creating a new normality for the beef industry. With more accurate data, genomic data is essential toward improving the way livestock is registered.
Cromie said by genotyping all animals at birth, DNA-based registration has the ability to correct 50% of all sire errors.
Cromie admitted new computer programs and systems are required to make this change, but the change is necessary. He claimed the best breeders are responding to the new program and technology, and ranchers working with ICBF's program have been able to reduce both their workload and stress levels.
In addition, Cromie said DNA-based registration is a cost-effective option for ranchers. It currently takes about $25 per head, but in the future this amount could be lowered to nearly $15.
While DNA-based registration has not yet hit the United States, Cromie urged cattlemen to "help create the new norm" in the industry and to be a part of a program capable of providing better service to ranchers.

Editor's Note: The articles used within this site represent a mixture of copyrights. If you would like to reprint or repost an article, you must first request permission of Angus Media by contacting the editor at 816-383-5200; 3201 Frederick Ave., Saint Joseph, MO 64506. Angus Media claims copyright to this web site as presented. We welcome educational venues and cattlemen to link to this site as a service to their audience.