Investigating G x E Effects on Beef Quality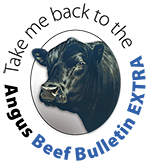 Research is investigating how genetics affect incidence of dark-cutting beef.
by Troy Smith, field editor
LOVELAND, Colo., June 21, 2018 — Is there a genetic component to the incidence of dark-cutting beef carcasses? U.S. Meat Animal Research Center Meat Scientist Steve Shackelford is wondering if dark-cutting beef is influenced by more than the environment. Shackelford explained related research during the 2018 Beef Improvement Federation Convention hosted June 20 -23 in Loveland, Colo. In a breakout session focused on end-product improvement, he suggested that some cattle may be genetically more susceptible to dark cutting.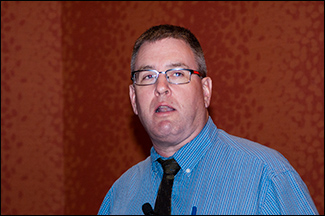 U.S. Meat Animal Research Center Meat Scientist Steve Shackelford.
To understand dark-cutting beef, it may be necessary to understand that the bright, cherry-red color associated with fresh beef results when beef muscle containing the "normal" amount of lactic acid is exposed to oxygen. Dark-cutting beef occurs among animals experiencing significant long-term stress, which depletes glycogen reserves in the animal's body. It is glycogen that is converted to lactic acid postmortem. So, long-term stress depletes glycogen, which reduces post-harvest lactic acid in muscle, and the result is dark-colored meat.
There is nothing tainted about dark-cutting beef. It is safe and just as nutritious as bright-red beef product. However, it can exhibit a "sticky" texture and off flavor. These palatability problems tend to make consumers shy away.
"For years, we have been taught and we accepted that dark cutters are a result of mismanagement and environmental circumstances," said Shackelford, explaining how rough handling, long transportation hauls and pulling cattle off feed for excessive periods of time are contributors, along with weather extremes and other challenging environmental factors.
However, Shackelford said there is evidence that certain bovine genes may affect relative susceptibility to the dark-cutting condition. He said research is under way to explore possible gene x environment (G x E) interactions and effects. In other words, researchers will be looking for gene mutations that may cause different individuals to respond to environmental variation in different ways.
"We will be able to access between 1,500 and 2,000 head of steers and heifers over the next four years," said Shackelford, explaining how the cattle are also instrumental to another research project that required collection of genotypes for each animal. The research may provide insight to whether animal muscle glycogen storage and meat color can be influenced through genetic selection.
Editor's Note: The articles used within this site represent a mixture of copyrights. If you would like to reprint or repost an article, you must first request permission of Angus Media by contacting the editor at 816-383-5200; 3201 Frederick Ave., Saint Joseph, MO 64506. Angus Media claims copyright to this web site as presented. We welcome educational venues and cattlemen to link to this site as a service to their audience.