Focus on Traits Not Considered
by Troy Smith, field editor
LOVELAND, Colo., June 21 — If asked, most beef cattle producers would say they have a breeding plan. But how many could honestly claim their individual plans give due attention to genetic selection for traits associated with reproduction and longevity, feed costs, animal welfare and their operation's environmental footprint? Speaking at the 2018 Beef Improvement Federation Convention hosted June 20 -23 in Loveland, Colo., animal geneticist Dorian Garrick suggested that such traits are not adequately considered.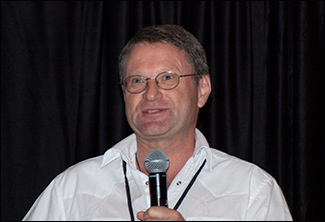 Animal geneticist Dorian Garrick suggested that such traits such as reproduction and longevity, feed costs, animal welfare and their operation's environmental footprint, are not adequately considered.
A professor at New Zealand's Massey University, Garrick said most producers place selection emphasis on ease of calving and early growth traits (weaning and yearling weights), and maybe carcass traits. He called these the "tangible" traits — those easiest to measure. Other traits, he fears, do not receive enough attention.
As an example, Garrick cited wide use of expected progeny difference (EPD) values and dollar-indices for aiding genetic selection to increase performance. But at what cost? With increased calf performance has come an increase in average mature cow size — 200 pounds or more in the last 20 years — and an accompanying rise in cow maintenance costs.
"It's my hope that, as you drive home from this meeting, you will think about things a little bit differently," said Garrick, encouraging producers to do a better job of addressing less-tangible traits.
Garrick admitted that there are reasons why these traits are not adequately considered. They may be difficult or more expensive to measure. In some cases, too little data is recorded or existing data is underutilized. Seedstock breeders also may perceive a lack of demand among customers. Breed associations may impede innovation, or do little to encourage it.
Garrick said the problem of neglected traits might be addressed through new technologies, with genomic technologies likely leading to increased emphasis on traits currently least considered. Incentives for innovation might be funded by society (subsidies). The latter suggestion might apply particularly to traits associated with animal welfare (disease resistance) and environmental impact (reduction of greenhouse gas emissions and excreted nitrogen).
In Garrick's opinion, most desirable would be development of selection indices to facilitate selection for multiple traits, including those previously neglected.
"The most efficient way is to use economic indices and not individual EPDs," stated Garrick.
Editor's Note: The articles used within this site represent a mixture of copyrights. If you would like to reprint or repost an article, you must first request permission of Angus Media by contacting the editor at 816-383-5200; 3201 Frederick Ave., Saint Joseph, MO 64506. Angus Media claims copyright to this web site as presented. We welcome educational venues and cattlemen to link to this site as a service to their audience.