Speeding Genetic Improvement of Commercial Cattle
GeneSeek technology designed to specifically help commercial operations utilize genomic data.
by Megan Silveira, editorial intern
LOVELAND, Colo., June 20 — Gene editing was the topic of focus at the Neogen International Genomics Symposium in Loveland, Colo. With new genomic technology and data, J.R. Tait, director of genetics product development, said Neogen GeneSeek Operations is able to offer commercial producers a way to make better breeding decisions.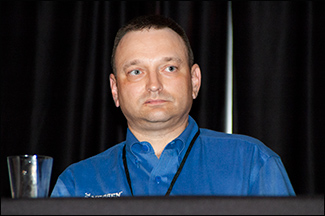 J.R. Tait, director of genetics product development, said Neogen GeneSeek Operations is able to offer commercial producers a way to make better breeding decisions.
Tait used the beginning of his presentation to remind producers about the simple biology serving as the foundation for the cattle industry. Cattle possess 30 pairs of chromosomes, with roughly half of each pair "donated" by the calf's dam and roughly half donated by the calf's sire.
Tait said there are more than 1 billion possible combinations of chromosome pairs in either the egg or the sperm. With all these potential combinations, it can be difficult to predict which traits are being passed to the next generation.
"There's a billion times a billion possibilities going into a calf," Tait said, adding that means a quintillion possible combinations from any given mating. "This is why people are interested in genomics."
Tait described genomics as data allowing ranchers to see which traits their calf crop is inheriting each year. While Mother Nature plays a large role in this process, Tait said Neogen GeneSeek is able to help take some of the uncertainty out of breeding decisions.
"There's a certain amount of biology we can't get around. That biology creates variability," Tait said. "Genomics let us see what kind of variability exists in animals."
Tait said genomics have been a large part of seedstock operations for the past years, allowing the offering of calves to improve every year. However, while Tait said genomic tools have been offered specifically to seedstock operations, there are new tools in the industry designed specifically for commercial producers. Tait described the purpose of these tools as helping ranchers to find animals possessing "good genes."
Neogen GeneSeek tools for commercial producers include Igenity Beef, a program Tait said characterizes additive genetics in animals. Already applied to several breeds, Igenity Beef allows ranchers to find which cattle have the best chances of passing on desired traits to their progeny.
Tait explained Igenity Beef is broken up into two profiles: Igenity Silver and Igenity Gold. These subsets provide ranchers with 6 or 13 traits ranked on a scale of 1 to 10 in regard to the animal's chance of passing on certain traits.
Other tools offered include Igenity Production Index, a program tracking genetic trends in specific operations, Tait said. Tait told producers the company is currently working on completing the Igenity Maternal Index and Igenity Terminal Index, programs with a stricter focus on specific traits.
To further help producers learn about these programs and how to use genomic data to their advantage, Tait said the company has a beef sales team spread across the country. This team is dedicated toward helping commercial producers in their assigned states better understand how these programs work, so they can apply them to their operations.
Editor's Note: The articles used within this site represent a mixture of copyrights. If you would like to reprint or repost an article, you must first request permission of Angus Media by contacting the editor at 816-383-5200; 3201 Frederick Ave., Saint Joseph, MO 64506. Angus Media claims copyright to this web site as presented. We welcome educational venues and cattlemen to link to this site as a service to their audience.