Forging a Future In Beef
Kevin Ochsner, Agcellerate Consulting,shares a road map for navigating the future of the beef industry.
by Lindsay King, assistant editor
LOVELAND, Colo., June 20, 2018 — Once-great business empires have fallen simply because someone else figured out how to do the same thing differently. Encyclopedia Britannica, Kodak, Blockbuster — all household names at one time — now don't exist.
Kevin Ochsner of Agcellerate Consulting and the Cattlemen to Cattlemen television program opened the 2018 Beef Improvement Federation Symposium Young Producers' Symposium, pointing to the road the beef cattle industry faces today. He descibed it as a winding gravel drive situated on a hill with highs and lows dictated by consumer and producer decisions.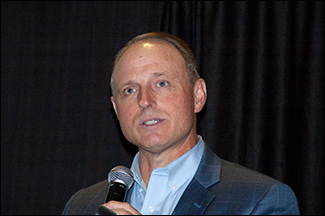 "All cattlemen are doing a lot of the same things, but need to be doing them differently. What are you doing in your operation to create and capture value?" asked Kevin Ochsner.
"All of us have different resources and backgrounds. We need to think about how we can pool those together and build our strategies from there," Ochsner said, quoting an unknown source: " 'A bend in the road is not the end of the road unless you fail to make the turn.' The question is, can we make the turn?"
Pulling inspiration from industries unrelated to cattle, Ochsner observed how things are changing far quicker than ever anticipated, and those changes are leaving effects beyond comprehension.
"Industries all around us are being disrupted. We have to make sure that is not us," Ochsner added. "We need to be anticipating turns, with our hands on the wheel."
Ochsner identified five key "curves" cattlemen will need to navigate on this road: 1) changing consumer preferences, 2) global demand opportunities, 3) competitive threats, 4) production and management technologies, and 5) resource management decisions.
"You have to ask the right questions. It is critical," Ochsner added. "Something to consider [is] what questions you should be asking yourself, because if you don't understand the problem, you cannot fix it."
Any good strategy establishes a target market to find your destination. Ochsner called U.S. cattlemen out for being the ultimate people pleasers, both now and in the past.
"It is hard to do everything with one set of cattle. We have been guilty of trying to be all things to all people," Ochsner said. "We want our cattle to be great maternally, terminally, in the show pen and on the rail. If we take one look at the hog and poultry industry, we see how they have avoided that."
No good trip starts without a preconceived road map, and producing cattle is no different. Finding unique ways to compete and win in your target market is the second step in Ochsner's road map for navigating the future.
"Strategy is about fighting fair, but avoiding fair fights. This means positioning yourself in the business to go into a fight with a competitive advantage that your competition cannot quite match," Ochsner explained. "Find your differential advantage and capitalize on it."
"Ever heard of Uber?" Ochsner asked. They took the taxi service and revolutionized it, effectively decreasing the market share of taxis in major cities across the nation. Uber found their unique value proposition and ran with it, just like producers should be doing.
"All cattlemen are doing a lot of the same things, but need to be doing them differently. What are you doing in your operation to create and capture value?" Ochsner asked.
Your partner in life and business are two of the biggest decisions you can make. Ochsner recounted how poorly his father's business partnership ended.
"You need to find a traveling partner who you can collaborate and coordinate with to strengthen your competitiveness and increase your joy," Ochsner said. "Starbucks is not in the business of coffee, serving people. They are in the business of people, serving coffee. I think the cattle industry is the same."
Talking to both the audience and himself, Ochsner finished with setting priorities.
"My life can be summarized by three or four key decisions. The rest are incidental," Ochsner said. "You need to figure out what those are for you and focus on getting them right."

Editor's Note: The articles used within this site represent a mixture of copyrights. If you would like to reprint or repost an article, you must first request permission of Angus Media by contacting the editor at 816-383-5200; 3201 Frederick Ave., Saint Joseph, MO 64506. Angus Media claims copyright to this web site as presented. We welcome educational venues and cattlemen to link to this site as a service to their audience.