Advanced Reproductive Technologies Are Changing the Industry, Careers
by Troy Smith, field editor
LOVELAND, Colo., June 20, 2018 — When you stop and think about it, the cumulative impact of advanced reproductive technologies (ARTs) is pretty amazing. And it's not over yet.
That was the message shared by geneticist Mark Allan, during the Young Producers' Symposium that kicked off the 2018 Beef Improvement Federation Convention June 20-23, in Loveland, Colo. Allan, who is director of marketing and genomics for Trans Ova Genetics, talked about the history and progress of ARTs applied by cattle breeders.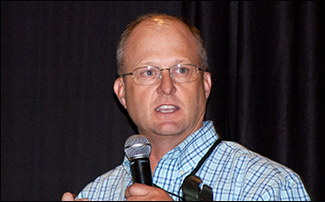 Mark Allan, director of marketing and genomics for Trans Ova Genetics.
"It started in the 1950s with artificial insemination (AI), which has most changed the industry," stated Allan, listing the subsequent introductions of ARTs such as embryo transfer (ET), in vitro fertilization (IVF) and sex-sorted semen. "All have allowed us to get more calves out of those really good females and great sires, and accelerate the advancement of genetic progress."
According to Allan, one of the fastest-growing applications of combined ARTs is the use of sexed semen with IVF embryos. He explained how it allows for oocytes from open, pregnant, subfertile and prepubertal females to be fertilized with sexed semen to produce animals representing superior genetics and desired gender.
Allan also talked about the role of genomic tools for identification of elite donor females at a very young age, and subsequent oocyte harvests from donors as young as 40 days of age, which contributes to the hastening of generation turnover. He reminded his audience that another valuable application of genomics is to evaluate the genetic differences of sires, including full siblings that may have very different values relative to economically important traits.
Allan said combined ART use is "just getting started" in developing strategies for managing genetic-environmental interactions and targeting genetics for consumer-driven products. He advised young people to consider related career opportunities, not only in cattle husbandry and production, but in scientific research and development, data analysis and consultation.

Editor's Note: The articles used within this site represent a mixture of copyrights. If you would like to reprint or repost an article, you must first request permission of Angus Media by contacting the editor at 816-383-5200; 3201 Frederick Ave., Saint Joseph, MO 64506. Angus Media claims copyright to this web site as presented. We welcome educational venues and cattlemen to link to this site as a service to their audience.