Building Trust
Relationships built on trust will help ranchers succeed in and out of the cattle industry.
by Megan Silveira, editorial intern
LOVELAND, Colo., June 20, 2018 — Trust is confidence in your relationships with others, defined Richard Fagerlin, founder of Peak Solutions, during the Young Producers Symposium hosted in conjunction with the 2018 Beef Improvement Federation Research Symposium and Convention in Loveland, Colo.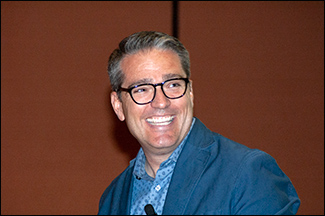 Richard Fagerlin, founder of Peak Solutions.
Fagerlin said many individuals are unwilling to trust others due to a lie we have been told most of our lives. The common saying, "Trust takes a lifetime to earn and second to lose," he explained, is not accurate as it implies trust can be earned.
"Trust is something you give," Fagerlin said. "If you don't give it, then you're never going to get it."
If we apply this saying to trust, we are creating a "score-keeping system," Fagerlin said, noting it is physically impossible to track all the right and wrong actions people make and then adjust the level of trust you award them.
We often resort to meeting others halfway in a relationship, Fagerlin observed. However, this does not serve as a reliable way to build better relationships.
"Halfway insinuates that the other person also has to come halfway," Fagerlin said. "People have different definitions of halfway, and you can't measure that in a relationship."
While Fagerlin admitted there are people who might take advantage of others, he said he does not believe people should stop being vulnerable. For trust to work, one must be willing to take a risk.
A new model
Fagerlin presented a new trust model he challenged people to use instead of relying on "keeping score of others' actions." Trust, he said, is built on three legs: integrity, competence and compassion. Where these three overlap is where Fagerlin said the actual trust factor can be found.
Fagerlin defined integrity as being able to do the right thing when no one is looking. He said competence is how well we can provide knowledge to others. The compassion component includes the need for candidness and willingness to communicate about difficult subjects.
Fagerlin provided producers with 10 steps to put the trust model to work when building relationships in life and in the workplace. First, he said everyone needs a "CPA." He broke down the acronym as having a cause, learning to participate and allowing the results to occur.
Fagerlin next encouraged people to have positive intent, meaning others should be given the benefit of the doubt. Third, Fagerlin said be offensive.
"Be willing to offend others and then get offended yourself," he explained. "Conflict creates intimacy."
Fagerlin also said to quit building self-esteem. He said this includes not waiting on others to recognize individual greatness. Fagerlin next demanded learning to balance candor with care. Treating people differently by recognizing their success and individuality is another of Fagerlin's steps.
Fagerlin's seventh step was to "focus less on the finish line." He said this step is key to agriculturalists, especially as they begin to face opposition from some of their consumers.
"We all have a story, and our story matters to us," Fagerlin said. "To change another's finish line, you have to go back to their starting line and then you have to walk to their finish line with them."
Fagerlin went on to say words are like toothpaste, meaning they come out easier than they go back in. He encouraged everyone to make their words count. Next, Fagerlin said to aim to get better rather than bigger.
The last step Fagerlin posed to test the trust model was to lose rights and gain responsibilities. He asked cattlemen to "be servants rather than slaves," hoping producers could learn to be eager to please and to serve consumers.
Trust is crucial to all healthy relationships, he noted, but it is something ranchers desperately need to understand and gain respect from customers.
Fagerlin said his model might not have "cracked the code to building trust," but it can allow people to have the difficult conversations regarding trust.
"Trust is a verb, not a feeling," Fagerlin said. "It's like love. You don't fall out of love. You just stop doing it. The same thing happens with trust."
Do not run out of trust to give others, he encouraged. Be a producer willing to be vulnerable — with other ranchers and the public.
Editor's Note: The articles used within this site represent a mixture of copyrights. If you would like to reprint or repost an article, you must first request permission of Angus Media by contacting the editor at 816-383-5200; 3201 Frederick Ave., Saint Joseph, MO 64506. Angus Media claims copyright to this web site as presented. We welcome educational venues and cattlemen to link to this site as a service to their audience.