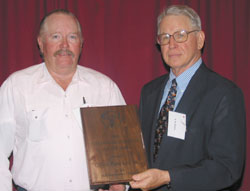 Art Olsen (left) of Olsen Ranches receives the Commercial Producer of the Year Award from S.R. Evans, 2004 BIF President.

Olsen Ranches receives BIF Commercial Producer of the Year Award


The promise of plentiful land brought Lars Olsen to Banner County in the western Panhandle of Nebraska in 1885. The Olsen family has raised Hereford cattle and farmed in Banner County ever since. Four generations later, the operation Lars founded, now known as Olsen Ranches, Inc., is managed by Lars's grandson, Arthur Olsen, and his great-grandson, Douglas Olsen.
Today, the progressive Olsen operation focuses on its commercial cow-calf herd, with 750 cows comprised primarily of Hereford genetics with crossbreeding of Red Angus genetics. Located in a region that receives approximately 14" of moisture annually, Olsen Ranches has 11,000 acres of native range and 5,500 acres of tillable ground (both dryland and irrigated) on which they raise wheat, corn, alfalfa, millet, peas, barley and small grain hay.
The Olsens also offer custom backgrounding and AI services for an increasing number of customers.
The Olsens are very involved in programs designed to improve Hereford genetics and grow the market for Hereford beef. The Olsens are one of the key Hereford breeders participating in the American Hereford Association's National Reference Sire Program (NRSP) and the National Cattlemen's Beef Association tenderness project, as well as in the international study sponsored by the American Hereford Association to standardize Hereford breed EPDs between the United States, Canada and Australia.
The Olsens believe in the strength of the Hereford breed and have a passion for promoting the beef industry. Most especially, the Olsens have a deep appreciation for the blessing of the rural lifestyle they enjoy and the incredible opportunity they have to be involved in this business.
The American Hereford Association nominated Olsen Ranches, Inc.