Hough receives BIF Continuing Service Award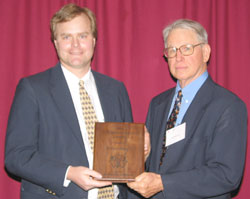 Dr. "Bob" Hough currently serves as the executive secretary of the Red Angus Association of America (RAAA) headquartered in Denton, Texas. Bob was raised on a general livestock farm in Pennsylvania and received his undergraduate degree from Penn State in 1982. He went on to receive his master's degree from University of Connecticut and doctorate from Virginia Tech, all in animal science.

His previous experience includes serving as an Extension Specialist in both Arizona and Maine, and as a marketing coordinator for the RAAA. While at Red Angus, Bob has provided the leadership for developing the industry's first U.S. Department of Agriculture (USDA)-approved and audited Feeder Calf Certification Program (FCCP). Bob also initiated Red Angus' carcass expected progeny differences (EPD) program and negotiated value-based grids with two major packers. He was also involved in the design of the industry's first "Total Herd Reporting" program, which was implemented at Red Angus.

Bob has served on the Beef Improvement Federation (BIF) Board as a representative of the breed associations. He chaired the Whole Herd Reporting Committee in addition to serving on the Program Committee. He was inducted into the Maine Beef Industry's Hall of Fame, and in 1996, received the RAAA's Distinguished Service Award. He also coached intercollegiate livestock judging teams for five years, judged livestock shows in 15 states and three Canadian provinces, and served on the steering committee for the National 4-H Livestock Judging Contest. He has written more than 125 scientific, Extension and popular press articles, and has been invited to speak on programs in 28 states, three Canadian provinces, Argentina and Brazil.